Quilt Top in 1 Hour (Sew a Jelly Roll Day) – Sept. 17, 2pm
September 17 @ 2:00 pm

-

3:00 pm

$15.00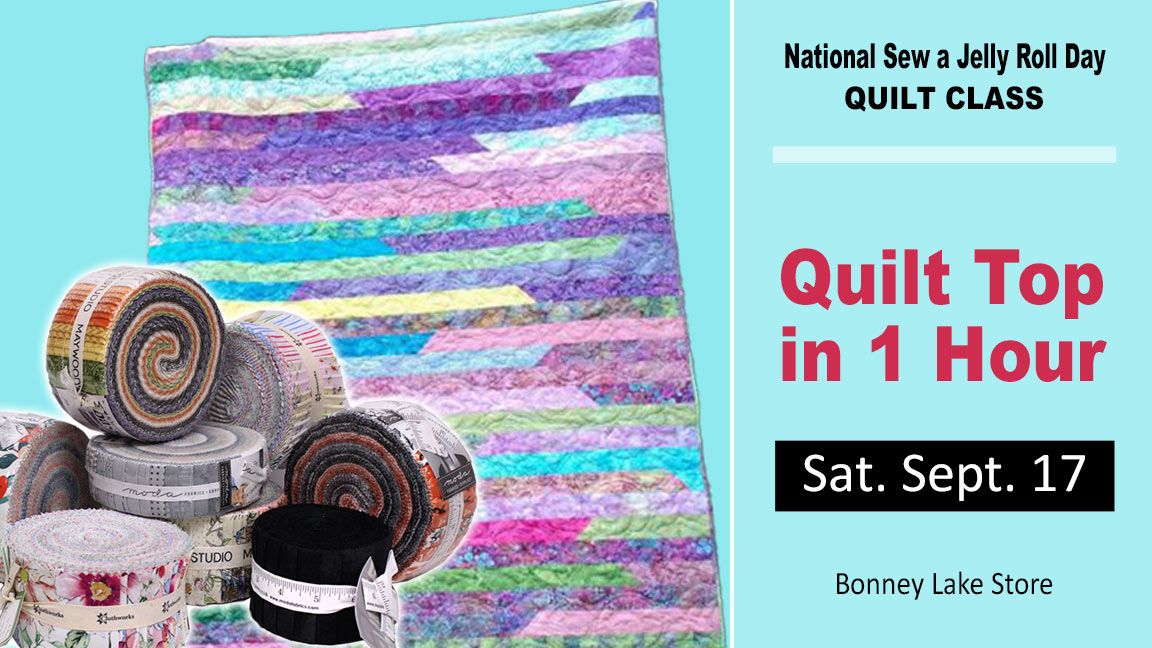 | Quilt Top in 1 Hour (National Sew a Jelly Roll Day) – Sat. Sept. 17, 2022, 2:00 – 3:00 pm (was originally 1:00 – 2:00 pm) | Bonney Lake Location |
You will learn how to make a quilt top using a 2.5" strip fabric pack, AKA a Jelly Roll. Make your own strips, bring a jelly roll from home, or buy one from us (10% discount if you sign up for the class).
ONLY 4 SPOTS PER CLASS AVAILABLE!
Gail, our talented instructor, will teach you how to use 2.5" strips (42 of them!) of fabric to make a quilt top. The goal of the class is to have fun and walk away with a completed quilt top. There will be giveaways for all participants, retail value from $35-$99. The first student to finish a quilt top will get first choice and so on. So come prepared!
DOWNLOAD THE SYLLABUS/ SUPPLY LIST HERE.
REGISTRATION IS REQUIRED 48 HOURS IN ADVANCE. Please enter attendee names and email addresses at checkout. This will help us reach everyone if needed.
If you have any questions, you can email us at quiltcottage@bfranklincrafts.com, visit our in-store customer service counter, or call 253-862-6822 –  please specify the name and date of the class.