Join us for the 2021 Virtual Saturday Sampler Quilt Club! This year's quilt is the Wing and a Prayer FANTASY. The finished size is approximately 102″ square.
VIRTUAL CLASS: $30.00
(SIGN UP online, in the store, or by phone – 360-794-6745)
Class fee includes your pattern*, monthly digital tutorial reviewing any tips or tricky parts in the pattern for the month. Links to the Saturday Sampler videos by Carrie and Terri will also be sent via email highlighting new items in the store, community outreach information, and our normal silliness.
There will be Saturday Sampler sales throughout the year that only you will have access to. Access to our Saturday Sampler Facebook group will also be included. There you can share your projects, ask questions, and stay motivated to get your UFOs done. When we are able to meet in person, the online access will continue. We welcome everyone wherever and whenever you are quilting.
* The monthly pattern/instructions will be emailed to you on the first Saturday of each month, or you can pick it up at our Ben Franklin store in Monroe, WA – (19505 Hwy 2, Monroe, WA, 98272)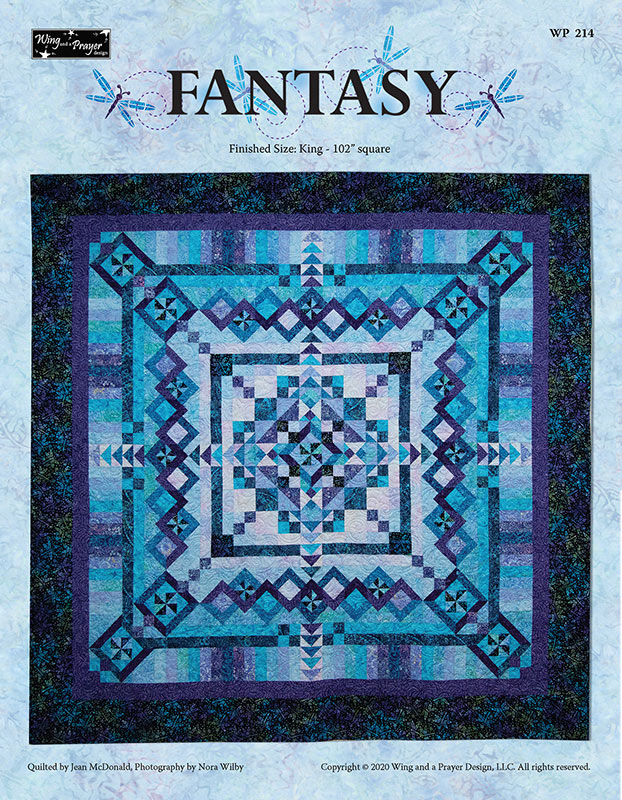 Fabric Kit (optional): $235
(PURCHASE online, in the store, or by phone – 360-794-6745)
We can also help you choose your own fabric if you'd like to stop by the store.
Fantasy fabric kit featuring Tonga batiks by Timeless Treasures. This includes all fabric necessary to complete the Fantasy quilt top and binding. The 14-piece Tonga Fantasy Batik collection was built around the dragonfly focal piece. Fabric collection range from the lightest of blues, hints of turquoise to deep purple. Dragonflies bursts from the center amid whimsical color combinations creating the double-woven pinwheel border in this traditionally pieced 102″ square quilt.