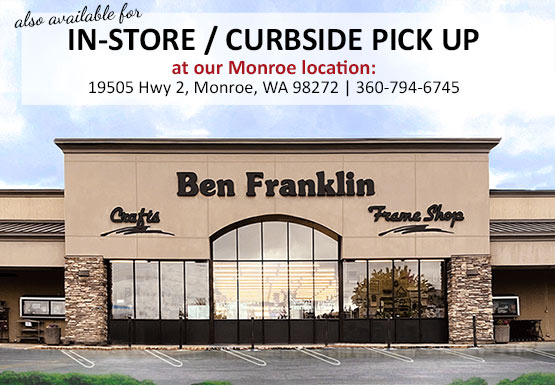 | Row by Row 2023 fabric block kit "Junior" from Ben Franklin Crafts and Frame Shop in Monroe, WA |  100% cotton. |  The kit will be available to ship (or pick up) starting June 1, 2023. This year's Row by Row Shop Hop runs from June 1 through August 31, 2023.
IN-STORE / CURBSIDE PICK UP is available ONLY at our Ben Franklin Crafts store in Monroe, WA. If your zip code is in the Monroe surroundings, you will be able to select this option at checkout under the Shipping Options. After you have placed your order, please call 360-794-6745 ext. 0 to make arrangements for pick up. Bring a copy (printed or show us on your phone) of your invoice at the time of pick up.
19505 Hwy 2, Monroe, WA, 98272 | 360-794-6745
———————–
Orders ship Monday through Friday through USPS.
While supplies last.
———————–