Quilt Corner (Monroe store)
Our Quilt Corner has the best fabric selection in town!
We are looking forward to helping you with your next sewing projects. We have a great team of experienced quilters ready to help you. Our Quilt Corner is located in the back of our Ben Franklin Crafts and Frame Shop store in Monroe, WA. Stop by to see all our beautiful fabrics! We have a HUGE selection! We also sell some fabric collections on our online store. See them HERE.
Fabric & Yarn Truckload SALE
Great deals on fabric & yarn now through Tues. May 31st, 2022.
– Flat Fold Fabric: $7 per yard
– Bolted Batik: 20% off reg. price
– Cuddle and Flannel: 20% off reg. price
– June Tailor Quilt-As-You-Go Patterns: 20% off reg. prices
This is a quilting club for everyone, everywhere!
Scissor & Knife Sharpening
Bob from Northwest Sharpening will be here at our Ben Franklin Crafts store in Monroe, WA on the dates listed below. 
Tues. June 7th, 2022 between 10:00 am – 2:00 pm
$4.00: Scissors & Pinking Shears, Knives (No serrated or single sided specialty knives), Garden Tools (Pruners-loppers-shears). No shovels, hoes, axes, lawn mowers, blades, etc. Sales tax extra. Cash or check only. No appointment needed.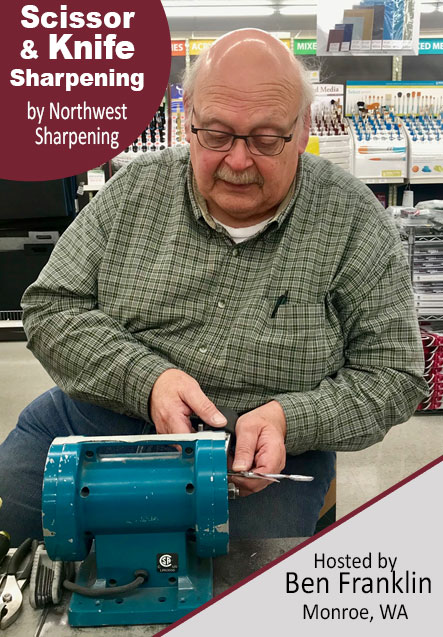 Follow our quilting team on Facebook:
You may be interested in these...
Each icon represents a day! We have the supplies you need to get started. Learn how it works over at Stircrazycrafter.com. For more hand-stitch project ideas, check out our Pinterest board!
Sewing projects with instructions...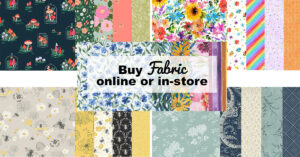 We are so glad that you found your way to our website! In this post, dated April 1st, 2022, we'd like to
Read More »
In-Store Sewing & Quilting Classes