Unique Christmas Decorations
Ben Franklin Crafts and Frame Shop | Bonney Lake location
Christmas decorating is here! Our staff will be happy to help you DECK YOUR HALLS, and DECK YOUR WALLS with unique decorations. Scroll down to see some of our Christmas decorations, Christmas gnomes, fur stockings, tabletop trees, decorative lanterns, realistic-looking wreaths and poinsettia, and much more. Come in today to shop our selection while it's at its best!
Christmas Gnomes & Hot Cocoa Mug
We don't know about you, but we are loving the gnomes popping up everywhere in the store! Maybe one of these adorable gnomes could keep you company while you drink your hot cocoa from one of our oversized cups on Christmas morning. (While supplies last)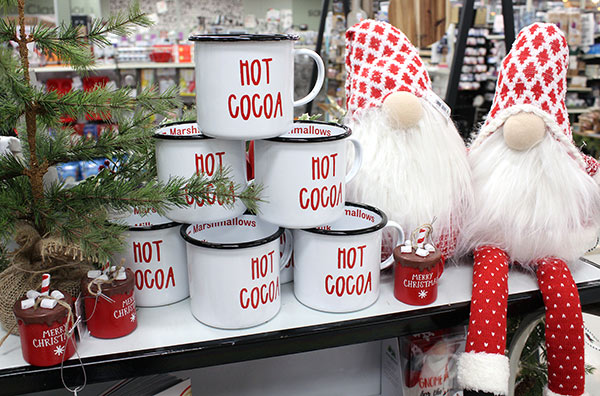 Decorative Lanterns and Candles
Decorative lanterns are very versatile and easy to incorporate in any of your existing Christmas décor. Simply add your favorite battery-operated candle inside with mini pine cones or mini ornaments. Place the lantern onto a tray and place Christmas picks or pine garland around it to create a beautiful holiday table display. Tip: Finish it off with a bow on top. If you'd like to learn how to make a bow, visit our YouTube channel here where Ann will show you how easy it is to make in a few simple steps.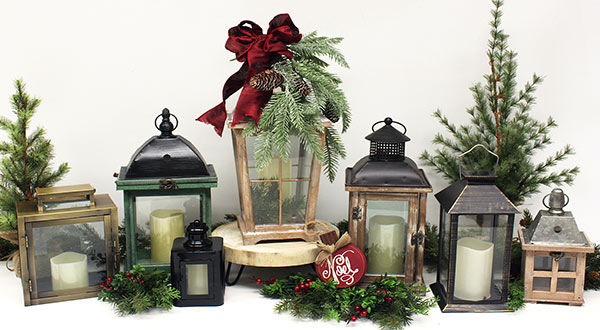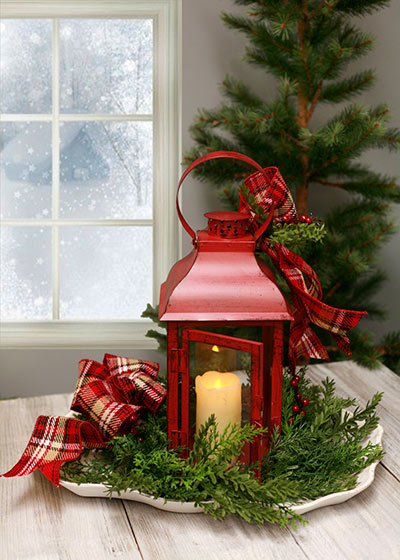 Vintage Red Truck Decoration
We love everything about this display! But of course, the vintage red truck decoration is our favorite piece! Have fun with this tray. Add a lantern, some mini brush trees, or a Christmas floral pick.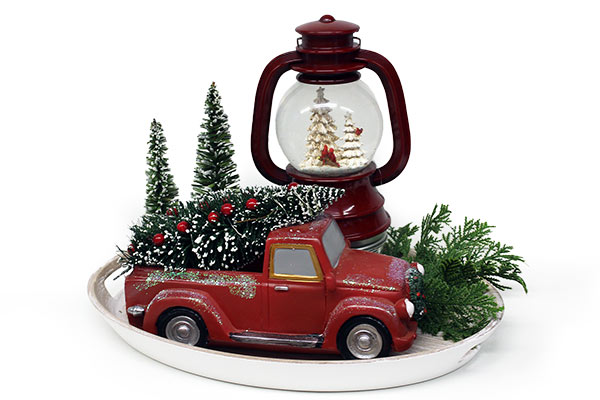 We have several styles of Christmas stockings to choose from, but you'll agree with us that these fur stockings are probably the cutest stockings we have seen yet!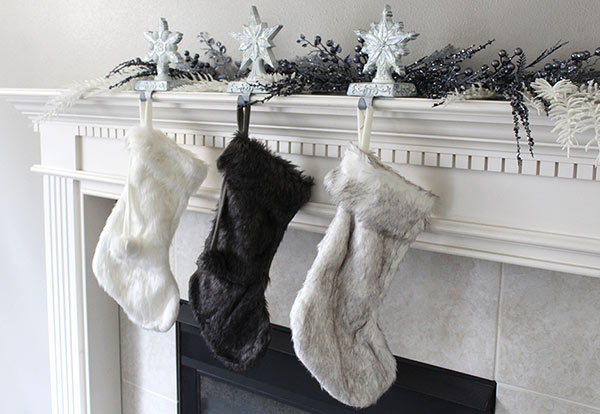 Tiered Galvanized Reindeer Tray and Barnwood Frame
Both the tiered galvanized reindeer tray and the barnwood frame were really easy Christmas decorations to put together. For the frame, just hang one of our beautiful realistic-looking wreaths by wrapping the wreath and the frame together with floral wire. That's it! For the reindeer tray, add any of your favorite decorations to it! It's up to you!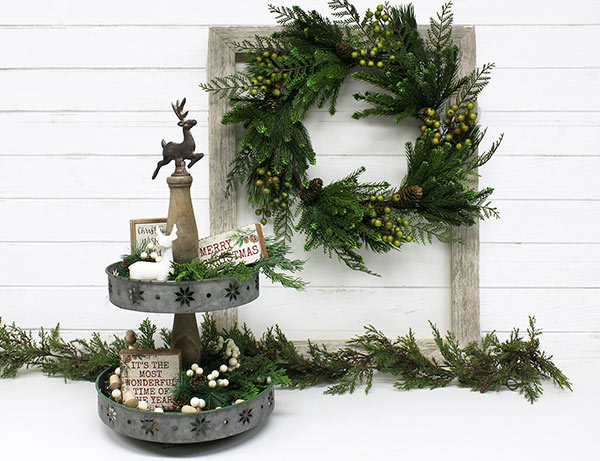 Traditional Christmas Wreath and Poinsettia
This beautiful realistic-looking pinecone wreath and artificial poinsettia arrangement would fit in any décor.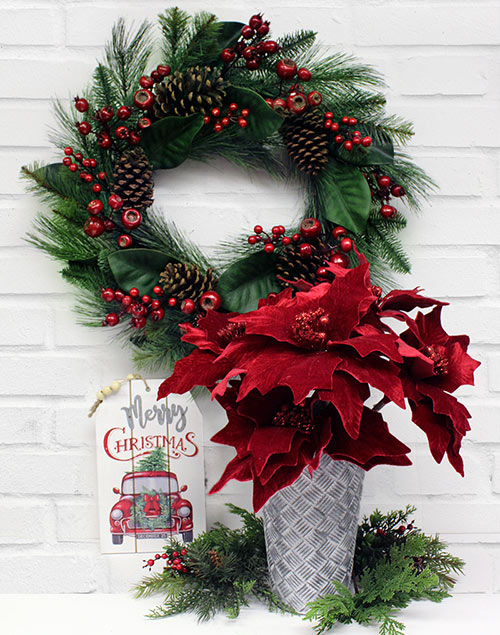 If you only have a small space but still want to decorate for Christmas, these small tabletop trees are perfect for you! They come in different styles and shapes. (While supplies last)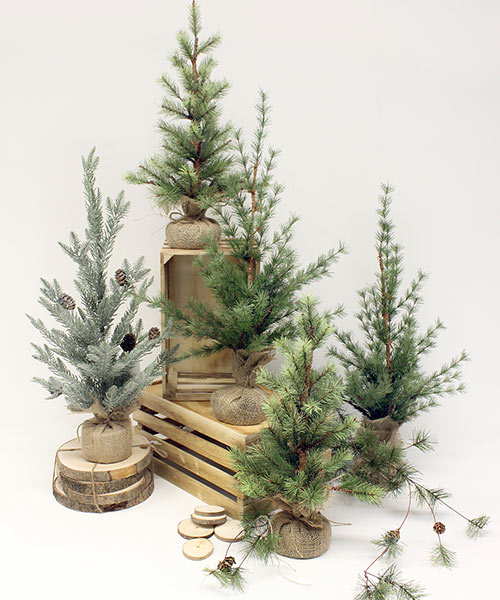 Christmas Quotes & Art Frames
These beautiful Christmas quotes and art frames are a perfect (and simple!) way to add some holiday spirit in any room in your house or office. The difficult part will be to choose which one to take home with you.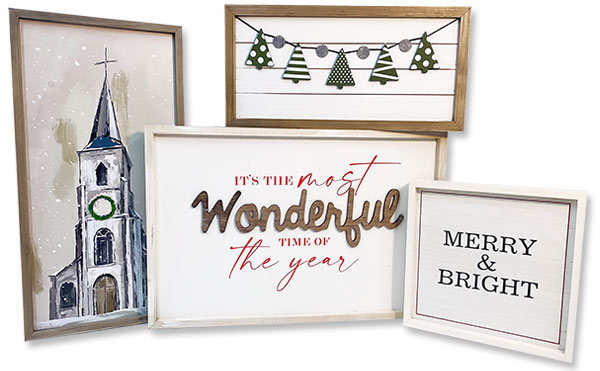 Battery-Operated Firefly Lights
Make any of your Christmas decorations sparkle by adding a string of battery-operated Firefly Lights. We have many options to choose from. You may want to hurry in to get these snowflake lights – they will go fast!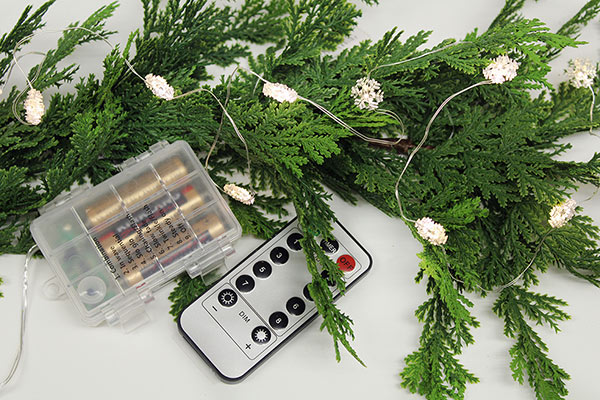 White Christmas Decorations
These white Christmas decorations would match well with any Christmas décor, or you can group them together to create a white Christmas in your own home!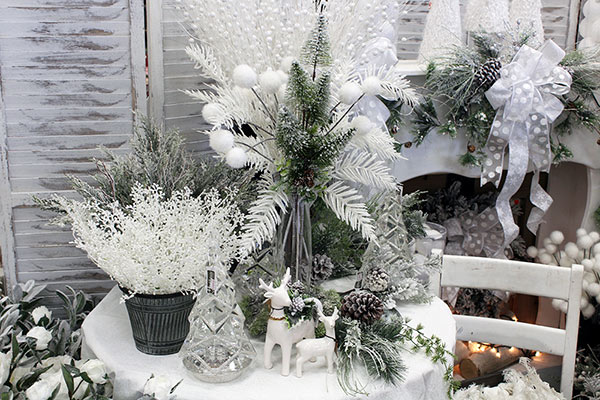 (Video) Learn how to make a BOW for your Christmas tree
In this easy-to-follow video tutorial, Ann will teach you how to make bows just like a professional floral designer. These bows are perfect for Christmas, birthdays, anniversaries, and any other celebration that's coming up in your family.
Our Christmas Floral selection is 30% off reg. prices!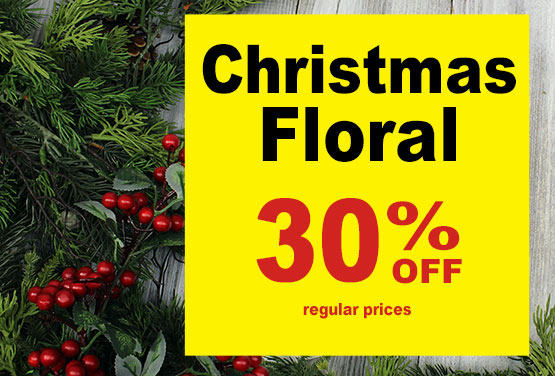 Blog posts from both stores: