Coffee Shop in Bonney Lake, WA
Our Ben's Espresso Coffee Shop has a beverage for you!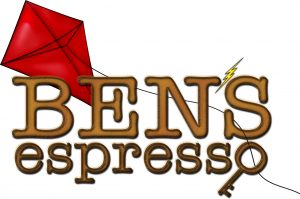 In 1991, our coffee shop "Ben's Espresso" located outside our Ben Franklin Crafts store in Bonney Lake, WA started with just a cart, but has grown into what we are today. From delicious espresso coffee, mochas to flavorful smoothies and energy drinks, Ben's Espresso has a beverage for you! With the largest variety of syrups, both regular and sugar free, drinks are customized to your personal taste!
We also offer an assortment of pastries and snacks on the go, and kids drinks from hot chocolate to flavored milks and sodas! Stop by our coffee shop in Bonney Lake to get refreshed and re-energized with your favorite drink at Ben's Espresso today!
Monthly Coffee Drink Specials
Independence Day Latte – Red Raspberry, White Chocolate and Blue Raspberry… So patriotic!
Founding Father – Milk Chocolate, Irish Cream and Kahlua… A Ben's favorite!

Firecracker – Red Raspberry, Blueberry and Red Lotus Energy topped with Cream!

Summertime Sunshine – Lemon, Black Cherry, Lemonade and Red Lotus Energy!
Blue Lagoon – Blue Lotus Energy, Blue Raspberry and Grape!
LIGHTNING BOLT: Get struck by this shocking blend of butterscotch and white chocolate.
BERRY BIFOCAL: It is clear to see why this smoothie is such a refreshing duo.
COMMON SENSE: You're sure to enjoy this basic yet delicious combination of vanilla and hazelnut.
FOUNDING FATHER: A united mix of classic mild chocolate, irish cream and kahlua.
Best coffee shop in Bonney Lake, WA