For quality picture framing, visit Ben Franklin Frame Shop in Monroe
Our professional framers are here to help you frame your pictures, memorabilia and much more. Come to our Frame Shop in Monroe for a free estimate!
WHY CHOOSE US? Our team of experts will not only work with your photo framing ideas, but are also able to build in-house a custom picture frame unique to your art or project. When you bring your artwork or photos to us to be framed it never leaves our building. As you may know, other stores outsource the custom picture framing jobs and that can mean lost or damaged art. For that reason, your valued art always stays in the same department while it is expertly framed. In essence, we can custom frame any photo, artwork or memorabilia – no matter the size or shape!

Frame and Preserve Family Heirlooms
Do you have precious family heirloom pieces hidden in your drawer or closet? Bring those pieces to our Frame Shop team and they will turn an old piece into framed artwork.
A customer brought in this vintage lace collar with a picture of a family member wearing it at the beginning of the century! She wanted us to create a unique shadowbox that would showcase and preserve this beautiful piece. First our framing specialist carefully flattened out the lace, then used a needle and some thread to tack in place the entire lace collar. This way, it will stay in place in its new frame. We love framing family memorabilia and learning the history behind each piece. Bring us yours today!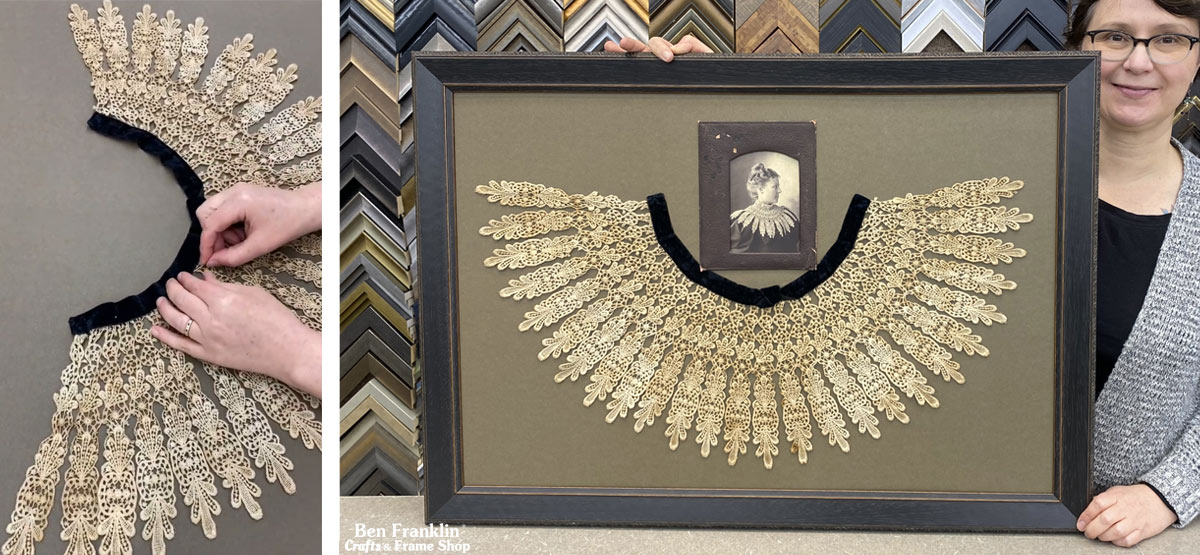 Bring in your canvas and our Frame Shop team will build a custom stretcher bar and help you stretch your canvas (size limitation may apply). You can also have your canvas framed with our custom picture frame mouldings to display on your walls. We have a great selection of mouldings to choose from. Come in for a free consultation to discuss your options.
Unique picture framing available at our Frame Shop in Monroe
Now that you know more about our Ben Franklin Frame Shop in Monroe, WA, we invite you to take a look at some of our custom-made picture frames designed by our in-house picture framing experts.  (click on each picture for a larger view). Of course, we hope that these will inspire you and demonstrate to you the many possible custom picture framing options available at our store. If you're in town, we invite you to come in for a FREE consultation!
Everyday Pricing on "Signature" Picture Frame Mouldings
Our everyday pricing on our "Signature Collection" picture frame mouldings is up to 50% off (no coupon required!) You'll be pleased with the QUALITY work we do, the EXPERIENCE we offer and the SUPERIOR DESIGNS we create. We promise to beat the competitors prices if you bring in a printed quote.
The discount is on moulding frame material only. It's not combinable with other offers or promotions. Limited to stock on hand. No cash value. Monroe store only.

Our Frame Shop in Monroe was voted Best of Snohomish and Island Counties. Come in to see what the excitement is all about!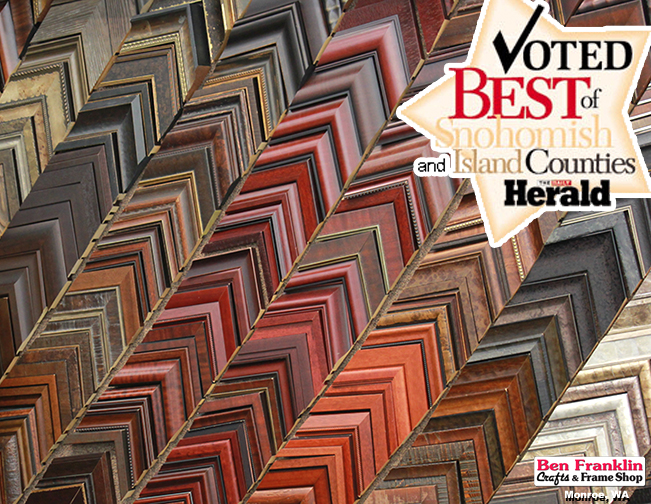 I was singing your praises to a friend the other day, especially regarding your framing department, and wanted to share that with you. We have been happy clients for quite a long time and continue to be so impressed! We have had everything from our Joe Namath and Steve Largent jerseys to our favorite vintage travel posters to several pieces of our favorite artwork framed perfectly! When I walk into your framing department, I know I will work with someone who is experienced in framing, honestly listens to my wants and budget, and is willing to ask others in the department for help if needed (because no one can know everything). I also know the dates they provide for completion are accurate, and the quality will be excellent. How great is that? Thank you for helping me make my home beautiful for at least 30 years. You guys rock! -dana
Several months ago I took in some pictures to have framed for my husband's "wall of fame" and Bethany Sailer handled the design. I absolutely LOVED how she arranged the pics, matte color and decided to give this meaningful gift to my husband as an early Christmas present. I then decided to take down all the other pictures from this wall of fame - spanning from the 1980's until now and have them all placed in new updated frames with new matting to better match the one Bethany did. She was great in helping with the layout of the pictures and removing the old ones without damaging them. She went through the practicality of spending a few extra dollars to help reduce fading which was already occurring w/ the old photos. Just wanted to say thank you for hiring such talented staff as they are the reason I keep returning as a 20+ year Ben Franklin customer.