Quilter's Corner (Monroe store)
Our Quilter's Corner has the best fabric selection in town!
We are looking forward to helping you with your next sewing projects. We have a great team of experienced quilters ready to help you. Our Quilter's Corner is located in the back of our Ben Franklin Crafts and Frame Shop store in Monroe, WA. Stop by to see all our beautiful fabrics! We have a HUGE selection! Can't make it to the store? Don't worry! We also offer a selection of fabric collections for purchase on our online store. See them HERE.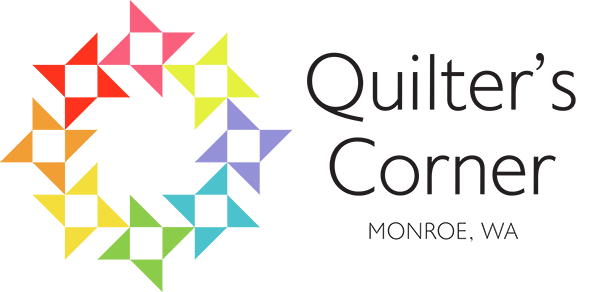 5-Minute Fabric Show from our Quilter's Corner
VIDEO recorded DECEMBER 1st, 2023
If you have not been in our fabric department lately, Carrie and Teri recorded this video where they show you some of our newest fabric collections. Watch the video >
This is a quilting club for everyone, everywhere! Join us once a month in the store, or via ZOOM.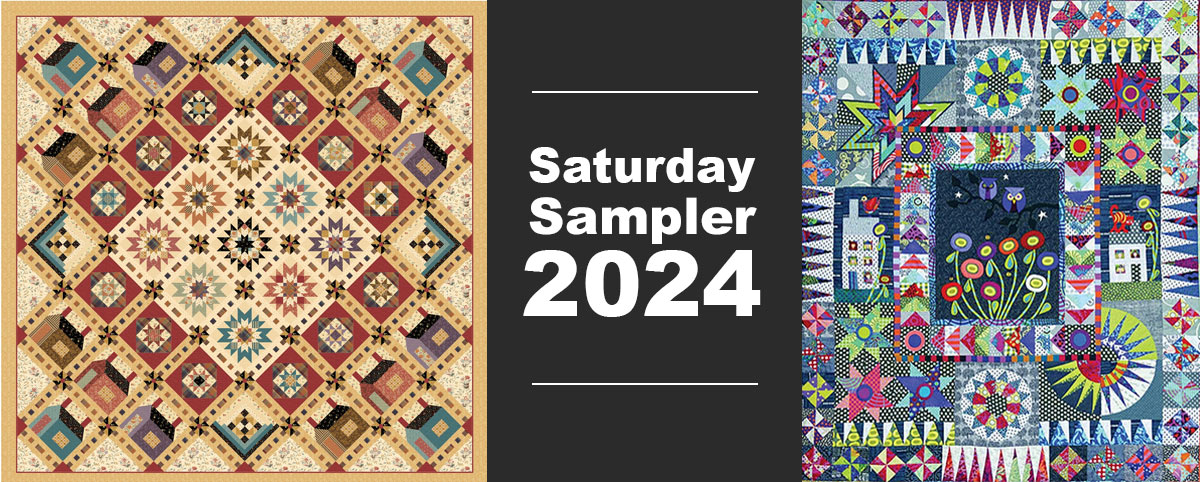 Tula Pink Fabric Collections
We have the latest fabric collections by Tula Pink, including Fairy Dust, Everglow, and Neon True Colors. Trust us, these fabrics are truly magical and are guaranteed to add a pop of vibrancy to any project you create. AVAILABLE IN-STORE, OR ONLINE.

Scissor & Knife Sharpening
Bob from Northwest Sharpening will be here at our Ben Franklin Crafts store in Monroe, WA on the dates listed below. 
Check our calendar for upcoming dates.
$4.00: Scissors & Pinking Shears, Knives (No serrated or single sided specialty knives), Garden Tools (Pruners-loppers-shears). No shovels, hoes, axes, lawn mowers, blades, etc. Sales tax extra. Cash or check only. No appointment needed.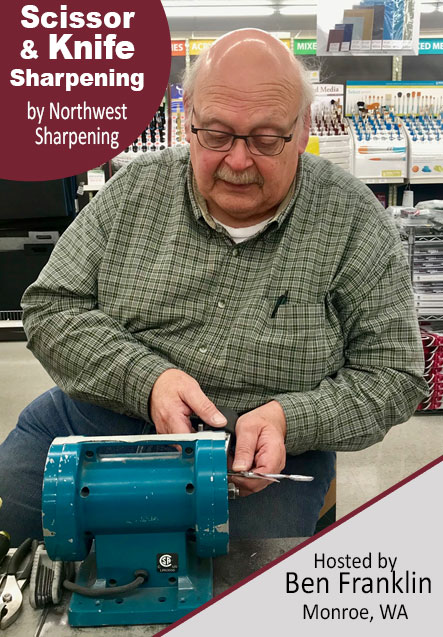 Donate your Western Washington Shop Hop Quilt
We collect your baby to twin size quilt that used Shop Hop fabrics.
Even though the Western Washington Quilt Shop Hop 2023 is over, we are introducing a fun new program using Shop Hop fabrics this year. We hear all the time that people love participating in Shop Hop but don't always know what to do with their blocks when they are done. Create a fun quilt from baby to twin size and bring them to us!
We will be collecting finished baby to twin size quilts that use the Shop Hop fabrics in them anytime between September to December 2023. We will give them a number and display them in our store during January 2024 for voting, and customers will be able to vote on their favorite quilts while they are hanging in our fabric department. The winners will be announced on February 3rd, 2024, and the top 3 will win a prize!
The quilts will be donated to the Seattle Children's Hospital Cardiac ICU Department, just in time for Congenital Heart Disease Awareness Week! We love to see your finished projects and love even more to be able to support Seattle Children's Hospital and the amazing things they do.
Prizes
1st: $75 Ben Franklin gift card
2nd: $50 Ben Franklin gift card
3rd: $25 Ben Franklin gift card
You may be interested in these...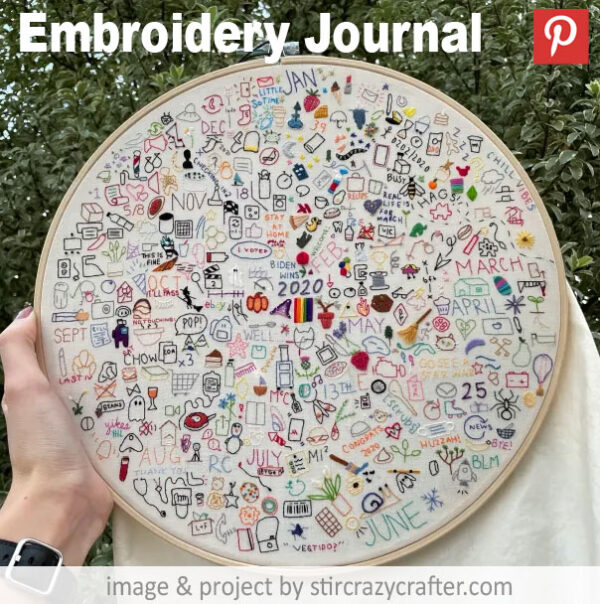 Each icon represents a day! We have the supplies you need to get started. Learn how it works over at Stircrazycrafter.com. For more hand-stitch project ideas, check out our Pinterest board!
In-Store Sewing & Quilting Classes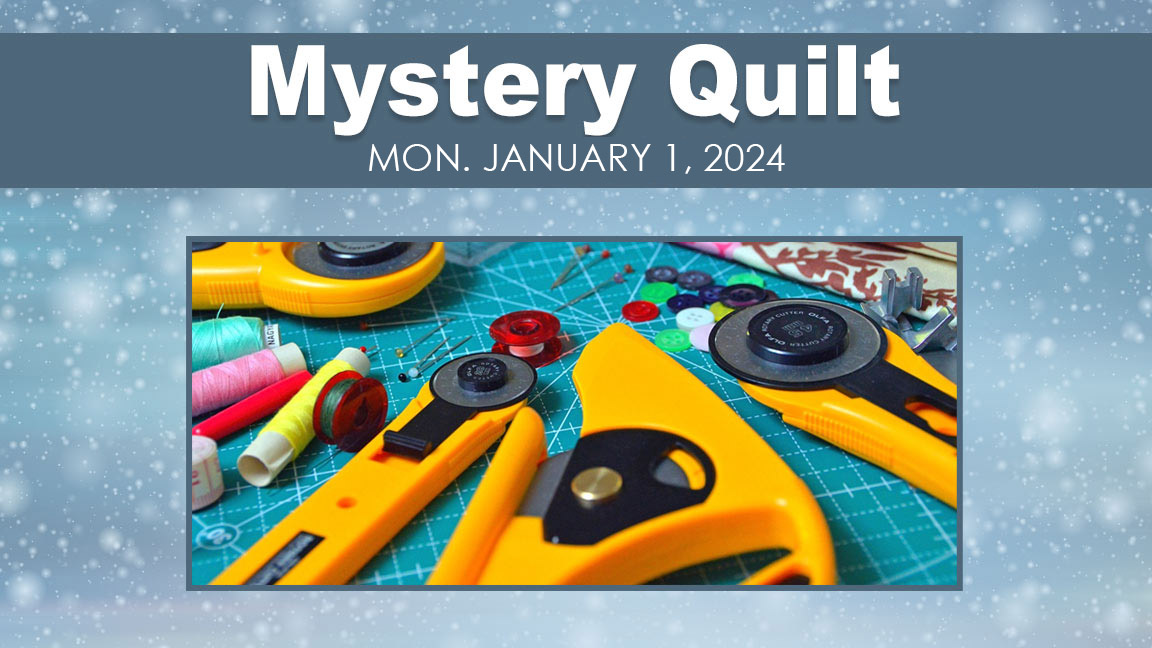 Sewing projects with instructions...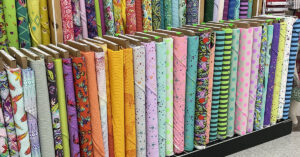 We have the latest fabric collections by Tula Pink, including Fairy Dust, Everglow, and Neon True Colors. Trust us, these fabrics are truly magical and
Read More »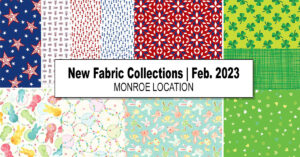 Today we're happy to show you a bunch of new fabric collections that we have received in the store. To make it easy for our
Read More »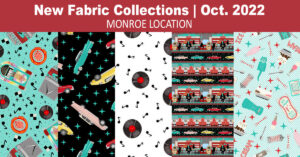 Welcome to our blog! In this post, dated October 27th, 2022, we'd like to introduce to you some new fabric collections that are available to
Read More »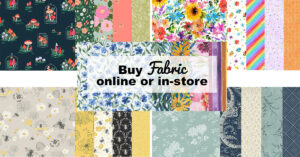 We are so glad that you found your way to our website! In this post, dated April 1st, 2022, we'd like to introduce to you
Read More »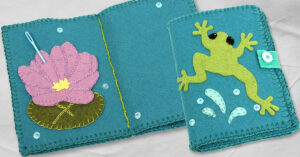 Make your own needle carrying case by making this adorable DIY Felt Needle Book using felt and floss. This inspiration is brought to you by
Read More »
This DIY Lunch Bag is a project that Gina here at our Ben Franklin Crafts and Frame Shop store in Bonney Lake, WA made using
Read More »