Ben Franklin in Bonney Lake, WA
Family owned & operated since 1986
Thank you for shopping at our Ben Franklin store in Bonney Lake!
Come in for in-store shopping, or use our curbside pick up service. Call us to place your order over the phone at 253-862-6822 ext. 1. Our Ben Franklin in Bonney Lake is your one-stop destination for all your crafting needs from fabric, yarn, thread, custom framing, fine art, needle art, scrapbooking & paper crafts, floral arrangements, home decor, to kids crafts and toys for all ages!
January is National Puzzle Month and we encourage you to build a puzzle with your family. The question is, what do you do with the puzzle once you are finished? Do you keep it on display or put it away in the closet? 
From January 14 – 31, we are collecting your gently used puzzles to be donated to the Bonney Lake Food Bank, The Market. (in its original box with all pieces, please).
With every puzzle donated and a new puzzle purchased for your own family, Ben Franklin (Bonney Lake location) will donate $3.00 to the Bonney Lake Food bank in addition to the donated puzzle. (with minimum puzzle purchase of $15.00). 
The puzzles will go to the Food Bank to be given to families this winter. Limit one donation per family. Fri. January 14 through Mon. January 31, 2022
Projects from both stores: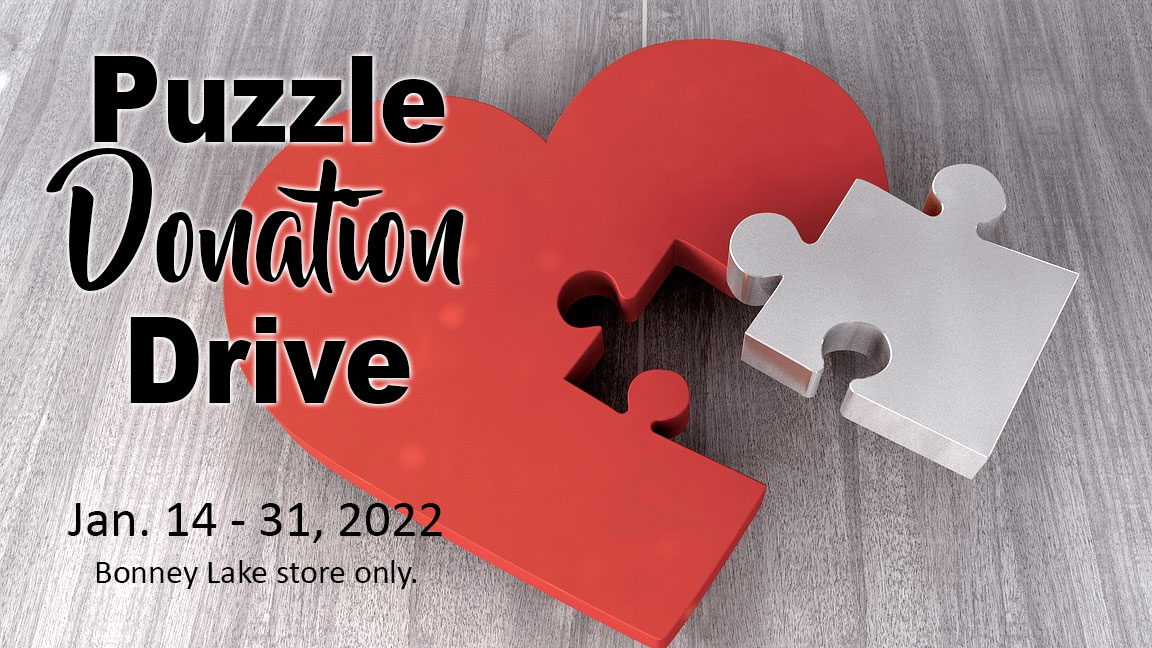 January 14 @ 8:00 am
-
January 31 @ 6:00 pm
Bonney Lake Location: 21121 Hwy 410 E., Bonney Lake, WA, 98391
JOB OPENING:
Warehouse/Receiving Position: Part-time position, Monday – Friday.  Job requires heavy lifting and use of ladder. Must have a valid driver's license. Needs to be able to work independently. Must be flexible and reliable. Starting wage is $14 and up. Apply in the store and/or call Christy at 253.862.6822 ext. 106.
Come in regularly to see our seasonal craft ideas!
We have an amazing team of designers that are here to inspire you! They create projects using the latest products available in our store that are the latest trends in the craft industry. Below are some popular video tutorials that we created to help you get started. We're here to support you with your crafting projects, so don't hesitate to ask if you need help!
Description
Learn how to craft together fortune cookies made of felt! Include positive messages inside and gift to friends and family
Ben Franklin in Bonney Lake has been in operation since 1986.
Our customers know us well for being the place to go for all arts and crafts supplies, but we also are a major employer, providing more than 1000 crafts-related jobs throughout the years to people of all ages. We take special pride in introducing young people to the world of work, as well as providing work opportunities to others that want to work in a fun place close to home. Don't hesitate to stop by to check out our job openings. It changes regularly. We are located in the Safeway plaza in Bonney Lake at 21121 Hwy 410E., Bonney Lake, WA.