For quality picture framing, visit Ben Franklin Frame Shop in Bonney Lake
As you will discover when you come in, our picture framing team in our Frame Shop in Bonney Lake are all working artists in addition to being experienced photo framers. Of course, their years of expertise guarantee the very best service in custom picture framing and ready-made frame choices.
Be assured that they will not only work with your framing ideas, but they are also able to build in-house a custom picture frame unique to your project. Adding complex shapes or hand painting across the mat or picture frame is all possible by our staff! (see some ideas below)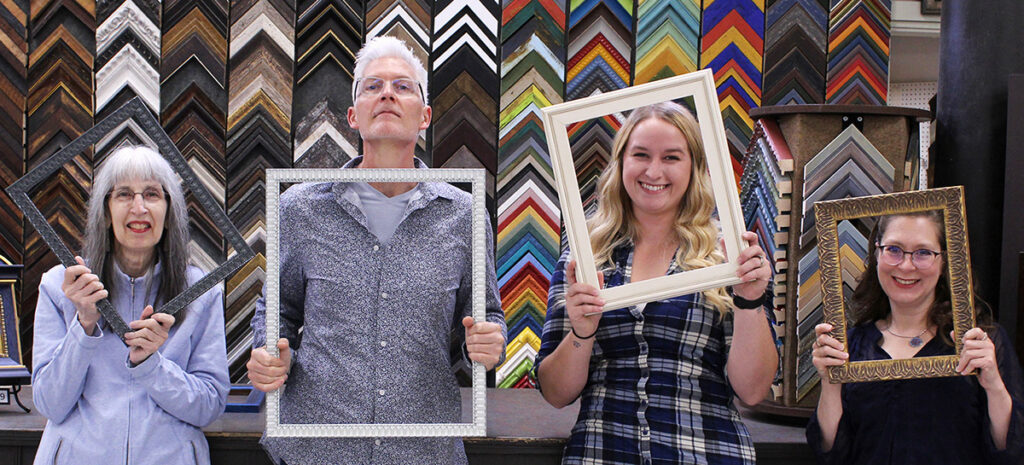 In addition, Ben Franklin Crafts and Frame Shop in Bonney Lake is an award-winning design shop. They have placed first and second in regional art & photo framing competitions. As a matter of fact, we have framed art for award-winning artists, framed pieces for the Governor's Mansion in Olympia, including top selling galleries in Las Vegas and New York. Obviously, we're very proud that some of our framed art pieces also hang in corporate collections and conference rooms from Bellevue to Chicago.
Therefore, we invite you to come down and meet our team that has decades of experience including a sincere desire to wow you with design ideas and fine craftsmanship.
When you bring your precious artwork or photos to us to be framed, the first thing to remember is that it never leaves our building. As a result, your valued art always stays in the same department while it is expertly framed. On the contrary, other stores outsource the picture framing jobs and for that reason, it can mean lost or damaged art.
Oversized or small picture frame?
You may need a very tiny object to be framed, or maybe a full-size USA flag. Either way, our expert picture framers can custom make the frame to fit your project. How big is too big? Never too big, and never too small for us! As you will see in the crab shadow box frame shown below, our framers can even paint the background to create a scene for your special object.
Best-Selling Picture Frame Sizes
Our everyday pricing on custom picture framing is the same as our major competitor's 40% coupon prices! You'll be pleased with the QUALITY work we do, the EXPERIENCE we offer and the SUPERIOR DESIGNS we create.
Ben Franklin
• 2000+ mouldings
• 1 day – 1 week
• Experience: 20 yrs
• everyday low pricing
Competitors
• 500 mouldings
• 2 weeks
• Experience: entry level
• coupon required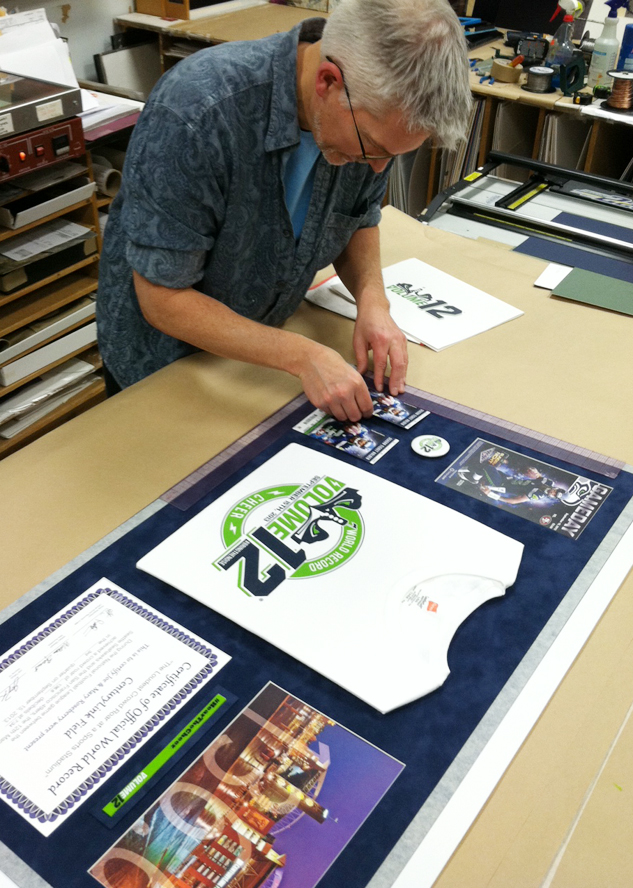 Unique picture framing available at our Frame Shop in Bonney Lake
Now that you know more about our Ben Franklin Frame Shop in Bonney Lake, we invite you to take a look at some of our VERY UNIQUE custom-made picture frames designed by our in-house artists. You'll notice that they include textures, style and shapes that go beyond the basic rectangle picture frame.
You'll find below our "Innovation Line" Custom Framing Designs (click on each picture for a larger view). We hope that these will inspire you and demonstrate to you the many possible custom picture framing options available at our store. If you're in town, we invite you to come in for a FREE consultation!
Regional Picture Framing Competition Winner
The framers at our Ben Franklin Frame Shop in Bonney Lake participated in the Framers Inventory Framing Contest twice and won both times for their creativity and unique framing style! As you can see below, in 2014, they won 2nd prize, and in 2016 they won 1st prize. In this contest, framers from 4 states were included: Washington, Idaho, Oregon and Alaska. Obviously, our Frame Shop has so much more to offer than cookie cutter frames!
Winner of 1st prize (2016): Firstly, we used a textured mat that matched Ian McRae's photography. To finish it off, we took chunks and cut out pieces of that same textured mat and placed them in the interior to mimic the chunky rocks in the image.
Winner of 2nd prize (2014): In this custom frame, individual little pieces were cut and used in a mosaic pattern to create a solid frame. In addition, colorful moulding pieces were added to the frame itself to get the sense that the lines striking sideways were extending the art into the frame itself.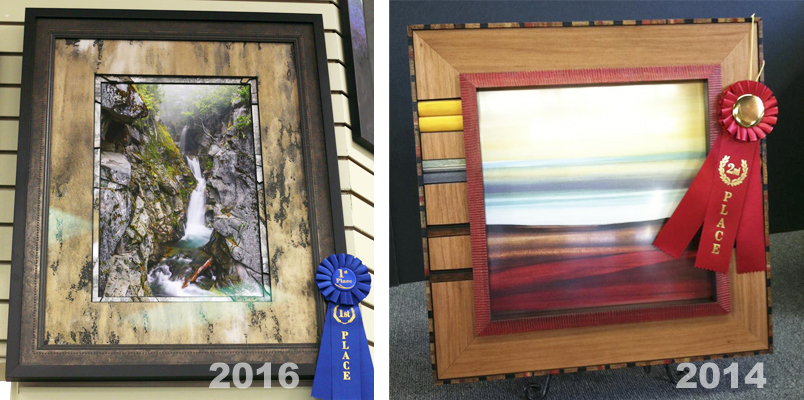 I normally don't leave reviews but I have to share this particular one. I was looking for a poster frame to be sized for a gift that we are getting a friend of ours for their wedding. Blame it on us but it was a last-minute effort in getting this gift completed. Needless to say I went to Walmart, Target, Bed Bath & Beyond, Michaels, Jo-Ann Fabrics to see if 1. they had the frame for this particular size poster in stock, 2. if not could they custom create this frame and 3. if they custom create it, can it be done in 2 days or less. All these places not only said they couldn't do it and that it would take 2 weeks to do but weren't the friendliest in their response. Although we procrastinated, I was looking for a little sympathy knowing that I had 2 days to get this gift completed and maybe figuring out a solution together. Needless to say two days later, I went over to Ben Franklin Crafts in Bonney Lake, met with the Frame Shop team who were friendly and very helpful - saving the day. They were sympathetic and understanding and knew that what I needed done was time-sensitive and needed to be done in 3 hours or less. Without breaking the bank I was able to complete this project get the gift done and walk out that door feeling like husband of the year. Highly highly recommend this place! If you have not been in there before you'll be amazed and surprised of all the different things they have there. I look at it as taking all your Fabric and Craft stores combining them together on steroids is what Ben Franklin is. That's it for my review, thanks for reading. Hope you guys visit this awesome place!
Ben Franklin is the only frame shop I use! They're friendly, creative and turn every piece into a masterful artwork!
Best-Selling Picture Frame Sizes
Our everyday pricing on custom picture framing is the same as our major competitor's 40% coupon prices! You'll be pleased with the QUALITY work we do, the EXPERIENCE we offer and the SUPERIOR DESIGNS we create.
Ben Franklin
• 2000+ mouldings
• 1 day – 1 week
• Experience: 20 yrs
• everyday low pricing
Competitors
• 500 mouldings
• 2 weeks
• Experience: entry level
• coupon required