Your little ones will love helping you make this adorable DIY Unicorn Lantern that they can display in their room. It makes a great night light! We invite you to come to our Ben Franklin Crafts store in Monroe, WA to use our Die-Cut Machine to cut out the pieces you'll need to make this project. 
Supplies needed to make a DIY Unicorn Lantern:
(Supplies may vary by store, however, special store-to-store orders can be placed with a one-week turnaround. Substitutions will be suggested if a product is no longer available.)
• Glass bottle
• Design Master TintIt Spray Dye (your choice of color)
• Paper (your choice of about 5 colors)
• Black rub-on vinyl sheet
• Hot glue gun & glue sticks
• Firefly Lights
• Die-Cut Machine Center: 
– Ben Franklin Die J7 (in-store only) for unicorn ears, eyelashes, and horn
– Ben Franklin Die Q20 (in-store only) for the flowers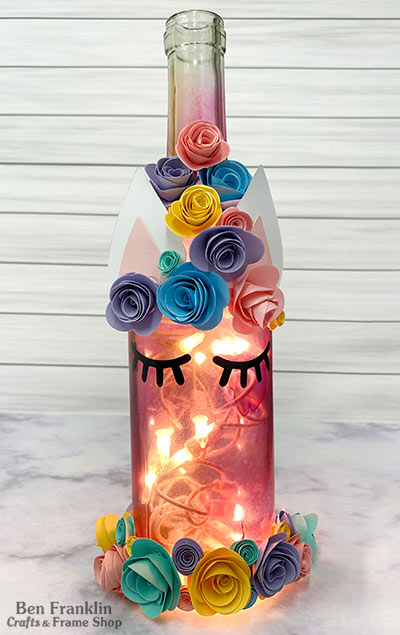 1. Visit our Die-Cut Machine Center in the store and cut out the unicorn shapes and flowers using dies J7 and Q20. Use the black vinyl for the eyelashes. Finish the remaining steps at home.
2. Spray the bottle with the Design Master TintIt Dye Spray. Make sure to follow the manufacturer's instructions on the can. Let dry.
3. Glue the ears onto the bottle, then add the flowers around the ears at the top and bottom.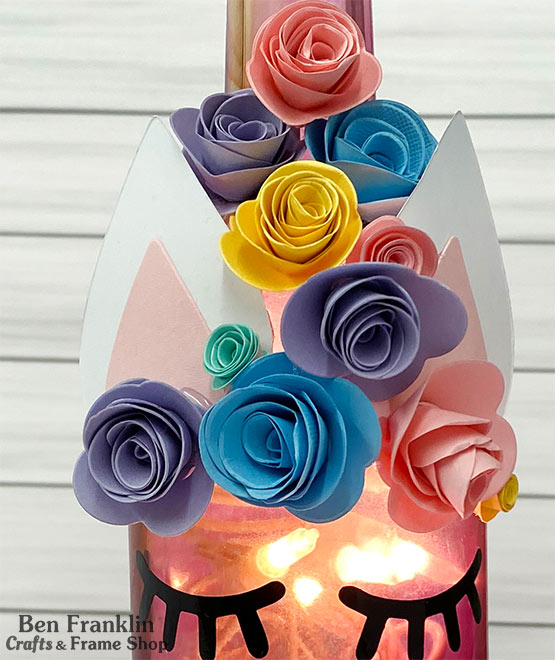 You can also add more flowers around the bottom of the bottle.
4. Rub on the vinyl eyelashes.
5. Add Firefly Lights into the bottle and enjoy!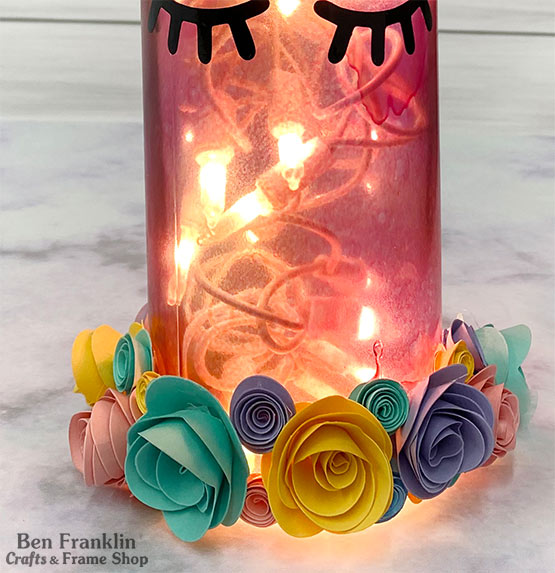 Store Locations: Bonney Lake & Monroe, WA