This fun Easter craft is so easy to make! Print our bunny template, draw it on your fabric, cut the bunny shape, sew it together, fill with candy, and tie with a hemp cord piece. Invite the kids to help you make these DIY Bunny Candy Bags which would be perfect for their teachers and friends. Don't forget to make some for your family too! 
We sell kits that include everything you'll need: 3 – 9″ x 11″ fabric pieces, hemp cord and instructions. Available at our Ben Franklin Crafts and Frame Shop store in Bonney Lake, WA.
Supplies needed to make a DIY Bunny Candy Bag:
(Supplies may vary by store, however, special store-to-store orders can be placed with a one-week turnaround. Substitutions will be suggested if a product is no longer available.)
Fabric (of your choice)
Hemp Cord (length will depend on how many bunnies you make)
Scissors
Pen, pencil, or marker to trace
Sewing Machine & Thread
Bunny Template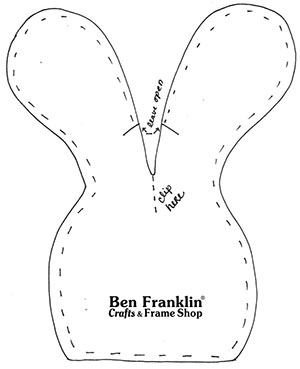 How to Make a DIY Bunny Candy Bag:
1. Print the bunny template available HERE. Cut it out. Place the template on your fabric. Trace around it with a pen, pencil or marker. Cut two bunnies out of your fabric. 
2. Pin 2 fabric bunny pieces wrong side together. Sew 1/4″ seam allowance around – leave it open between the marks in the v of the bunny ears (see template). Clip the curves if desired.
3. Turn it right side out and iron it. Make a 3/4″ clip between the ears as indicated on the template.
4. Fill it with treats. Tie shut with a piece of hemp cord.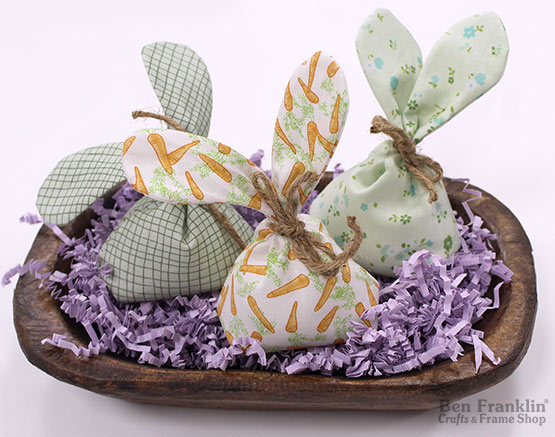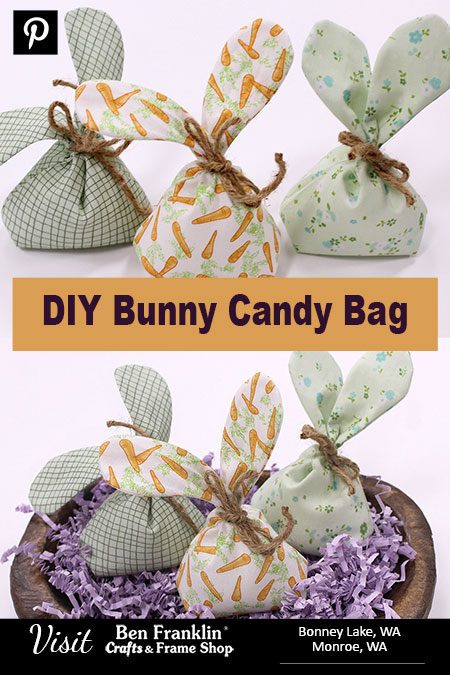 Store Locations: Bonney Lake & Monroe, WA