Can you see it hiding in the garden? Today's Easter craft idea is an adorable bunny hopping in the garden! Imagine the kids' faces when they see this project! They'll each want to make their own. We'll show you how easy it is to create. We even included a YouTube Shorts video to help you get started.
Supplies needed to make 1 Bunny Hopping in the Garden
(Supplies may vary by store, however, special store-to-store orders can be placed with a one-week turnaround. Substitutions will be suggested if a product is no longer available.)
Pom Pom sizes 1.5 inch and 3 inch
Unfinished Wood Container (The container we used is available only at our Monroe store)
Acrylic Paint / Paint Brush
Floral Foam & Knife
Hot Glue & Glue Gun
SuperMoss of your choice
Felt Sheets & Scissors
Chenille Stems (Optional)
Paint Pen (Optional)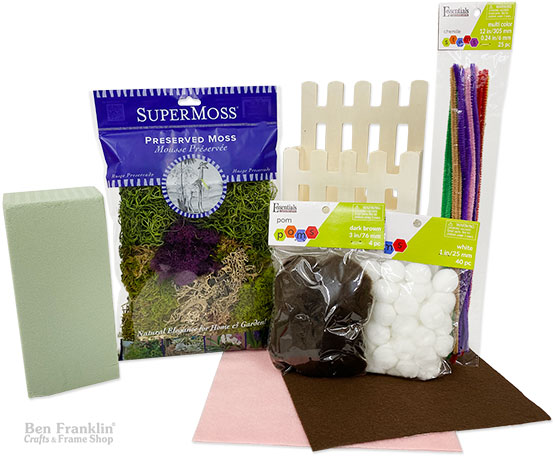 YouTube Shorts video tutorial on how to make a "Bunny Hopping in the Garden":
1. Paint your wood container in the color of your choice. Let dry. 
2. Cut the floral foam piece to fit inside your container and hot glue it in place. This will add height to your "garden".
3. Hot glue the SuperMoss to the floral foam. Look at our model to see where we placed our moss. You may also decide to add moss to the front of the container. It's your garden! Add as many or as little moss as you want.
4. Make your Pom Pom bunny by hot gluing the small 1.5 inch Pom Pom to the 3 inch size. This will create the "butt" of the bunny.
5. Cut out felt pieces to use as ears and feet.  Don't forget to add the pink "pads" to the under part of the feet. Once your feet and ears are ready, hot glue them on the large 3 inch Pom Pom. Then glue the bunny in your "garden" on top of the moss.
6. Optional: Use the Chenille Stems to create flower shapes. Poke them inside the garden and through the floral foam. Use a Paint Pen (POSCA works really well) to write your message to the front of the wood box.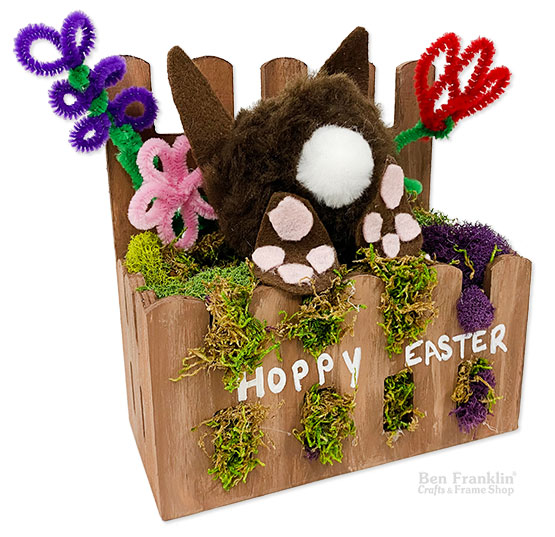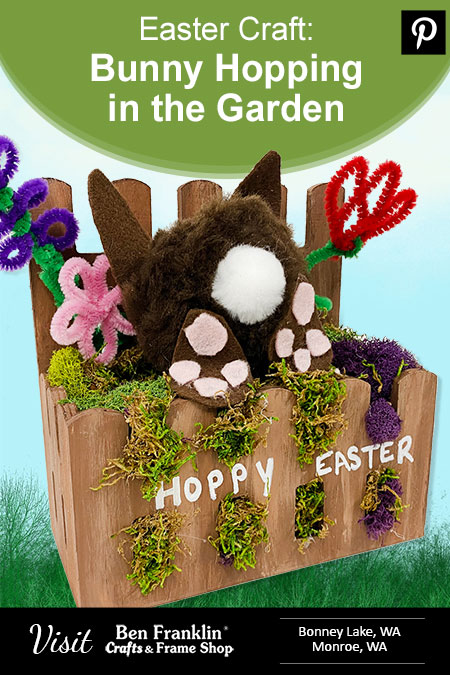 Store Locations: Monroe, WA