Did you receive a unique gift that needs to be framed? Our experienced framers in our 2 Frame Shops are here to guide you through the process of custom framing to create a unique framed art piece that you will love. We'll explore with you all the different mat textures and colors, and the moldings or shadowboxes that would make your object, picture or art piece stand out. And of course, we will recommend the best options to protect your art for years to come.
For more information about what services our Frame Shops offer, and also to see more custom framing ideas, visit their individual webpages here:
– Bonney Lake store: https://www.bfranklincrafts.com/frame-shop-bonney-lake-wa/
– Monroe store: https://www.bfranklincrafts.com/frame-shop-monroe-wa/
Stop by for a free consultation.
Custom framed pictures & art...
(Supplies may vary by store, however, special store-to-store orders can be placed with a one-week turnaround. Substitutions will be suggested if a product is no longer available.)
3 ft. Stones in Heart Shadowbox
This 3-feet heart shadowbox is one that everyone here at the Bonney Lake store adores because of the story behind it. Dana collected heart shaped rocks for years and ended up with a huge collection. When she fell in love with Adrian, she thought it was time to create something beautiful and unique with these rocks that she would offer to Adrian as a message of love. 
She brought her rocks to our store and had a consultation with our experienced framers in our Frame Shop. She decided to keep the "heart" theme that represents LOVE so clearly. Our framers cut a mat in the shape of a heart, placed it in a custom-made shadowbox and glued all the rocks in place to create a unique design. 
This 3-feet-wide art piece will be cherished by Adrian for years to come!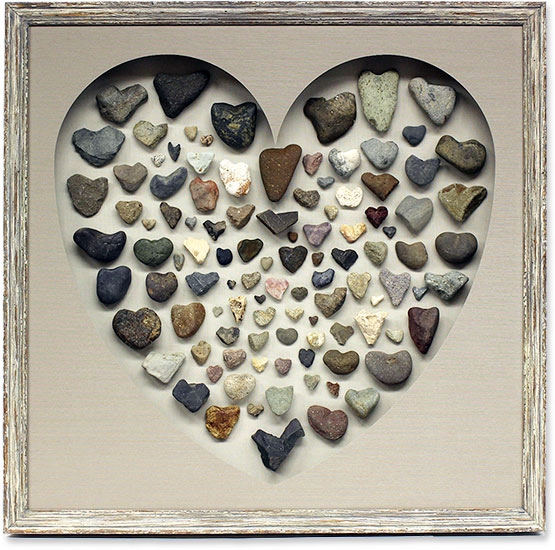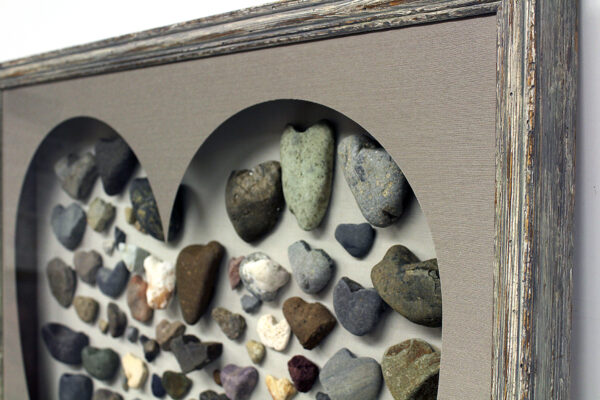 Vintage Mementos Shadowbox
Do you have some items that belongs to someone dear to you that you have been saving for years? Maybe they're still in the bottom of a drawer or in a box in the closet? Why not get them out! Bring them to our expert framers and they'll help you create a shadowbox or frame that will protect and showcase your precious memories of your loved one.
Oh my gosh, this is such a fun frame that our Frame Shop team made! Our framers painted the water background and the frame to create this beautiful display of a crab. 
We can custom frame original paintings, prints, small objects, greeting cards, postcards, posters, pictures, and so much more! They make great gifts for Valentine's Day, Christmas, anniversaries, and birthdays. Come in today for a free estimate. 
Store Locations: Bonney Lake & Monroe, WA