You don't need to be an experienced crafter to make these fun DIY Valentine Felt Fortune Cookies. We even included a video below. Make several of them and include a different message in each one. Your loved one will be touched by this unique way of sharing your love on Valentine's Day, or any day of the year! 
Supplies needed to make a DIY Valentine Felt Fortune Cookie
(Supplies may vary by store, however, special store-to-store orders can be placed with a one-week turnaround. Substitutions will be suggested if a product is no longer available.)
Felt
Hot glue & glue gun or felt glue
Paper
Scissors
Chenille stem
Pen
Sharpie pen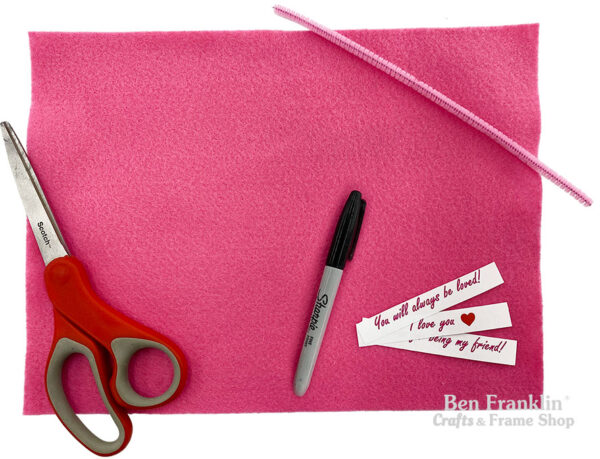 1. Trace a circle with a sharpie pen on the felt. TIP: You can use a glass or jar mouth as a template to trace a circle. The size of your glass or jar will decide on the size of your fortune cookie.
2. Cut the circle out. (We cut 4" in diameter)
3. Cut chenille stem to match the width of the circle and glue it to the center. (This will act as the spine of the cookie.)
4. Cut small strips from the paper and write your fortune messages. TIP: You can print your messages on your printer, and then cut out into strips.
5. Place the fortune message halfway on the circle (see video), leave the other half hanging off the side.
6. Fold the circle in half (like a taco shape). The chenille stem should be along the bottom, inside the fold. Glue part of the rounded edges together, leaving the corners open.
7. To create the cookie shape, push the center of the chenille stem towards the rounded edge and pinch the corners inward.
Store Locations: Bonney Lake & Monroe, WA