Recycle glass bottles by adding bamboo skewers to create this vase that has a natural boho look! We included a video to help you understand how we made this decorative bottle and how we created the leaves using cardstock paper, a scoreboard and glue!
Supplies needed to make a Skewer Vase
(Supplies may vary by store, however, special store-to-store orders can be placed with a one-week turnaround. Substitutions will be suggested if a product is no longer available.)
Glass Bottle
Bamboo Skewers
Jute Twine
Hot Glue & Hot Glue Gun
Rubber Band
12×12 Cardstock Paper (your choice of color)
Scissors
Scoreboard
Stylus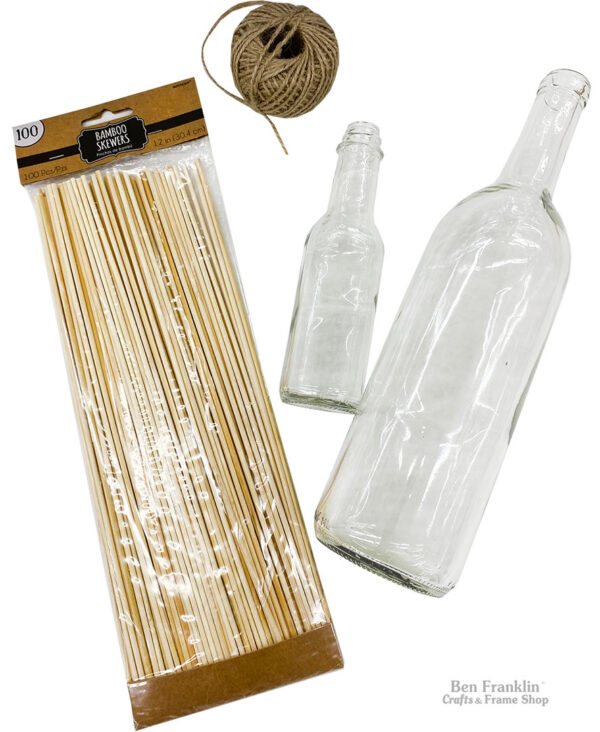 Video tutorial on how to make a skewer vase
1. Using your hot glue gun, glue the skewers side by side on the glass bottle. Pointed ends facing up.
2. Wrap the twine around the bottom of the skewers. Glue the end to secure. Wrap 2 rubber bands around the top to hold the skewers in place, then wrap the twine, covering the rubber bands. Glue to secure.
3. Fold the cardstock paper in half and cut out a triangular leaf shape. (Refer to the video)
4. Place on the scoreboard and first crease down the center of the leaf, then continue to crease outwards every .5".
5. Fold in an accordion style at the creases. Add some glue along the bottom of the leaf, center the skewer and pinch the paper together, creating a fanned out leaf. Repeat steps 3-5 for the desired amount of leaves at any size.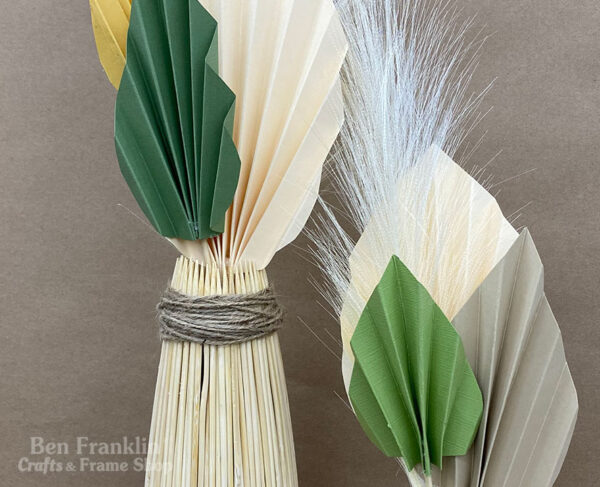 Store Locations: Bonney Lake & Monroe, WA