We love to make projects with our faux fur fabric! Isn't this little guy the most adorable Halloween Furry Spider decoration that you could make with the kids or your students? Make a furry spider for your neighbors, they'll love him. Just drop him in their mail box for a spooky delivery. 
Supplies needed to make a Furry Spider:
(Supplies may vary by store, however, special store-to-store orders can be placed with a one-week turnaround. Substitutions will be suggested if a product is no longer available.)
Faux Fur Fabric (4 colors to choose from)
2″ Craft Foam Ball
2 Googly eyes – 15mm
4 Chenille stems for legs
You will also need hot glue or crafters glue (not provided)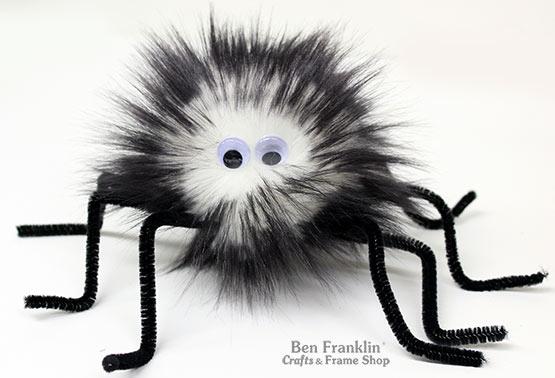 STEP-BY-STEP INSTRUCTIONS:
Step 1. Use the hot glue to attached the faux fur fabric to the outside of foam ball. Carefully (the glue will be warm) squeeze the fur around the ball to make it round.
Step 2. Add the googly eyes on the front and center of the fur ball. You may want to open up the fur a little bit to place the eyes.
Step 3. Take 4 chenille stems and twist them together in the center to make the legs (8 legs total). Use the hot glue to adhere then under the ball. Let dry. Separate them, then bend them in 2 places to make the spider legs (knee joint and foot joint).
Store Location: Bonney Lake, WA