Step up your Halloween decorating this year with a DIY Eyeball Specimen Jar or two! Grace demonstrates in the video tutorial how to use vegetable glycerin, food coloring, glitter and water to create this fun craft. Fill the jar with eyeballs, bugs and more to decorate for a spooky season!
Supplies needed to make a DIY Eyeball Specimen Jar:
(Supplies may vary by store, however, special store-to-store orders can be placed with a one-week turnaround. Substitutions will be suggested if a product is no longer available.)
• Sharpie Pens (colors: black, red and colors of your choice for the iris)
• E6000 Glue
• Green Food Coloring
• The Glitter Guy (we used Ectoplasm Glitter)
• Vegetable Glycerin
• Crafter's Foam Balls
• Glass Jar with lid
• Water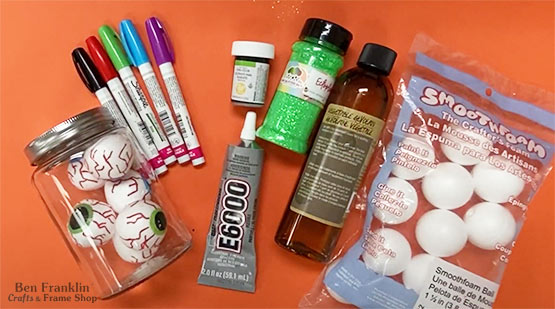 Watch the video for step-by-step instructions. Click HERE.
STEP-BY-STEP INSTRUCTIONS:
1. Color the pupil, iris and veins on the foam balls to create the eyeballs. Let dry.
2. Place all finished eyeballs into your glass jar.
3. Add just a few drops of food coloring. The more you add, the more opaque it will be.
4. Add glycerin to the jar (about 1/3 of the jar). The more glycerin you add, the longer the glitter will float and spin around. Then add water to fill the rest.
5. Add desired amount of glitter.
6. Use E6000 glue to seal the lid (place on the threads of the jar then twist lid on). Let dry.
7. Shake gently and enjoy!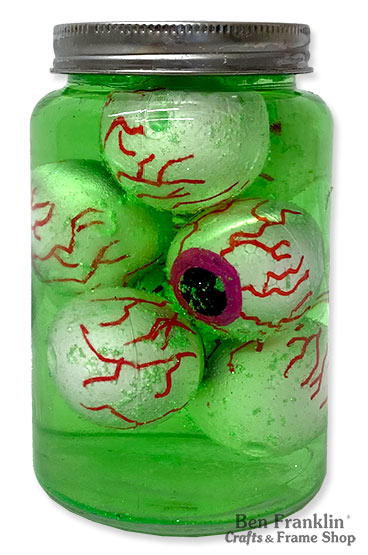 Add plastic bugs, miniature toys, small trinkets, or anything that would fit in the jar, shake, and watch it move around!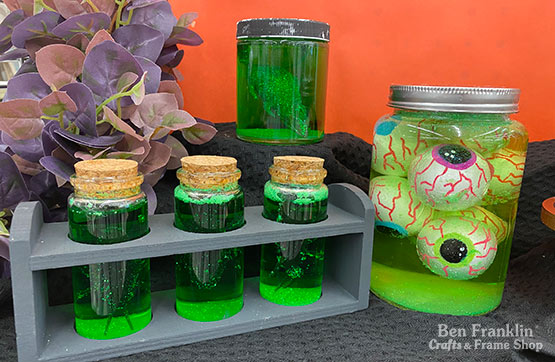 Store Locations: Bonney Lake & Monroe, WA