(UPDATE: SOLD OUT)
Celebrate the arrival of Spring by making this Swing Into Spring Gnome. Hang it on your patio, or in a window. Wherever you display him, he will make your guests smile!
SOLD OUT - Kit to make 1 Swing Into Spring Gnome includes :
• Fabric
• Paper Mache Cone
• Faux Fur Beard
• Bag with Beads
• Wood Ball & Wood Round
• Jute String
A hot glue gun and glue will be needed, but is not included in the kit.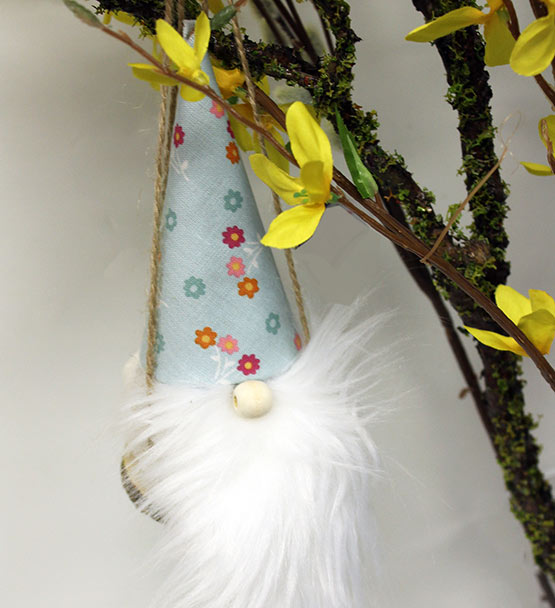 Watch the video for step-by-step instructions. Click HERE.
UPDATE: Our kit has SOLD OUT.
1. Fold and hot glue the flaps on the bottom of the white bag.
2. Remove the string from the bag top and double knit tie the bag closed about half way down the bag. Cut the extra top of the bag off leaving about an inch above the tie.
3. Make the hat by taking the Paper Mache cone and wrapping it with fabric. Start by placing the fabric at the top of the cone (point) and wrap the fabric around the cone tacking it in place using the hot glue. There will be about 1 ½ inch excess on the bottom that can be folded under the cone and hot glued into place.
4. Hot glue the faux fur beard on the inside of the front of the cone (opposite fabric seam)
5. Hot glue the nose just under the cone in the middle of the beard.
6. Hot glue the hat to the body.
7. String both pieces of jute thru each side of the wood round to make the swing for the gnome. Tie off the jute and leave a little extra to hang down under the base of the swing.
8. Hot glue the gnome in place on the wood swing.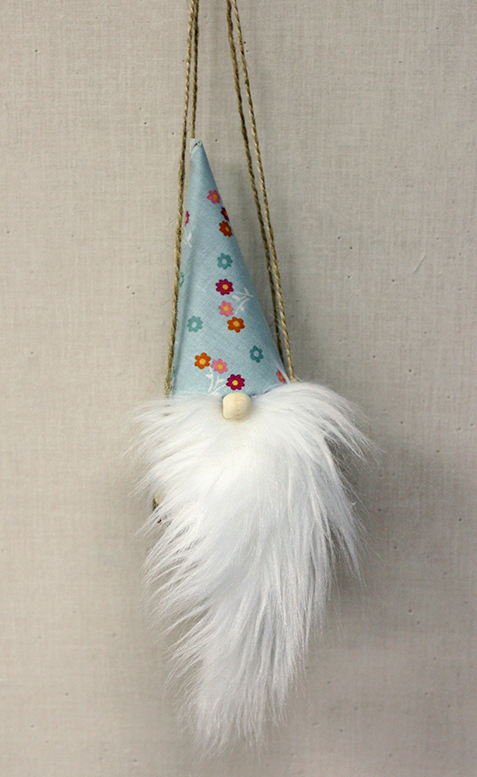 Store Location: Bonney Lake, WA