Gift your friends and family with goodies inside this mini DIY Easter Paper Basket! Make this with your favorite paper (we used Bunny Trail by Photo Play).
Supplies needed to make an Easter Paper Basket:
(Supplies may vary by store, however, special store-to-store orders can be placed with a one-week turnaround. Substitutions will be suggested if a product is no longer available.)
Scoreboard
Paper Cutter
Long Scissors
Bone Folder
Glue
Embellishments (your choice)
Paper (1 white, 1 colored, 1 coordinating patterned DSP – Designer Series Paper)
Lace Punch
1½" Scalloped Circle Punch
1¼" Circle Punch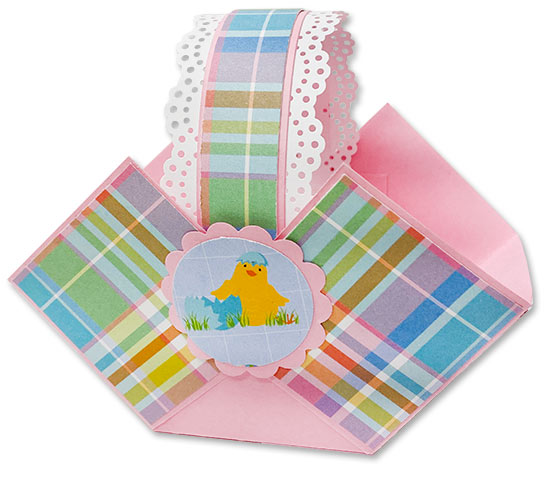 Watch the video for step-by-step instructions. Click HERE.
Preparation:
1. Cut 1 colored cardstock paper to 6" x 6".
2. Cut 6 DSP pieces to 1⅞" x 1⅞".
3. Cut 1 strip from the colored cardstock to ¾" x 6".
4. Cut 1 strip from the DSP paper to ⅝" x 6".
5. Cut 1 strip from the white cardstock to ½" x 6" for the lace.
6. Punch two 1½" scalloped circles from the colored paper.
7. Punch two 1¼" circles from the DSP paper (use as your focal point).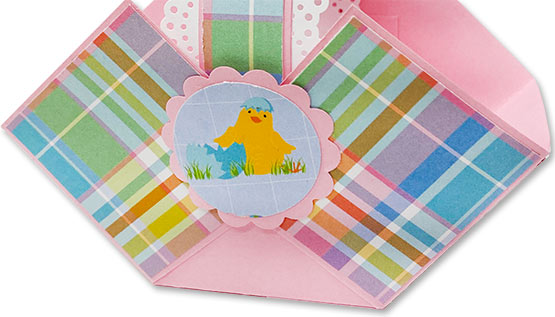 Assemble:
1. Score your 6" x 6" cardstock at 2" and 4".
2. Rotate and score again at 2" and 4"; burnish the score lines on two sides across from each other.
3. On two sides opposite of one another, cut along the score lines until you reach the first horizontal score line.
4. On the sides you didn't cut, glue your DSP square pieces – total of 6 squares. Your 6" x 6" paper should have the middle column blank and then the columns on each side decorated.
5. Turn the paper over so the patterned side is facing the bottom.
6. Rotate the paper so one of the cut sides is facing towards you. Fold the middle square up.
7. Add glue/tape almost to the top of the middle square and along the sides facing the middle of the two outer squares. Fold the outer sides up to form the side of the basket. Where you connect the squares will determine how large you make your basket. Repeat with the other side.
8. Create your lace strip using the lace punch on the longer sides of your white strip.
9. Using your scoring/bone tool, gently scrap against one side of each strip to break the fibers and cause it to curl (start from the middle and scrap towards the ends).
10. Glue each strip on top of each other to form the basket handle.
11. Glue the handle to the basket. Punch circles to embellish sides and add additional embellishments as desired.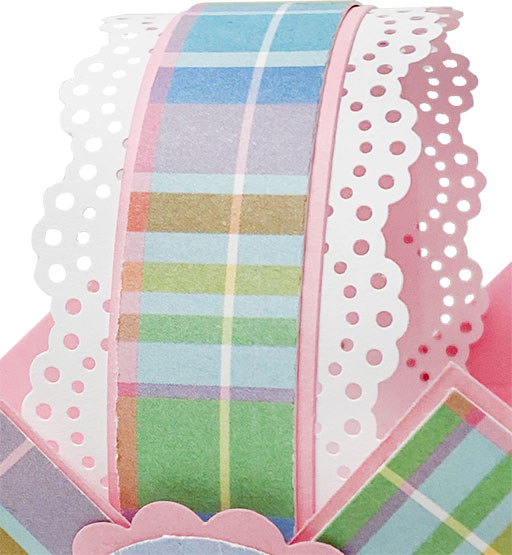 Store Locations: Bonney Lake & Monroe, WA