Pick your color palette, temperature range, stitch and pattern to create a unique blanket! Welcome to our Temperature Blanket Planner Guide blog post! You may wonder what a temperature blanket is? It's a fun and easy way to journal daily high temperatures using yarn! What makes each blanket unique depends on the color palette you choose and which location you are keeping track from.
The basic idea behind a temperature blanket is to knit or crochet a row or two every day using a different color for each day. You can create a striped blanket that reflects the changing of the seasons all year long or you can create one for just a few months. Experiment with time frames and temperatures (or another subject like moods!) to also create table runners, wall hangings or even scarves!
Temperature Blanket Planner Guide
Print the guide HERE (PDF file)
In our temperature blanket planner guide, you will find the yarn colors used with their color name and number, the temperature range guide, the knit instructions, and the crochet instructions.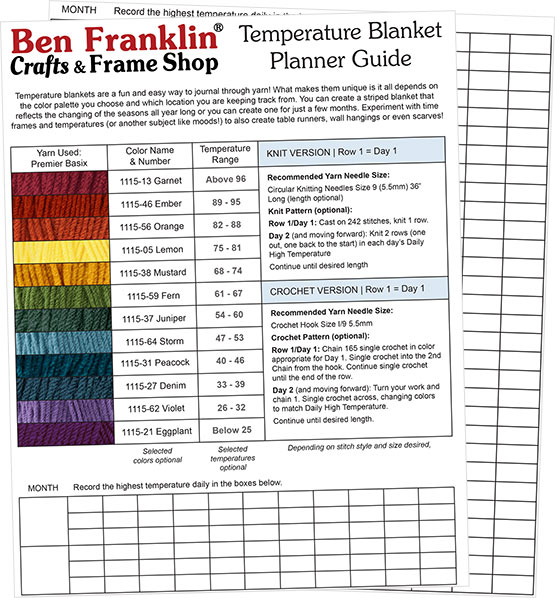 Supplies needed to make a Knit or Crochet Temperature Blanket:
(Supplies may vary by store, however, special store-to-store orders can be placed with a one-week turnaround. Substitutions will be suggested if a product is no longer available.)
Yarn used in our model: Premier Basix (12 colors shown below)
Knit version: Circular Knitting Needles Size 9 (5.5mm) 36″ long (length optional)
Crochet version: Hook Size I/9 5.5mm
Basic Yarn Color Guide to make a Temperature Blanket: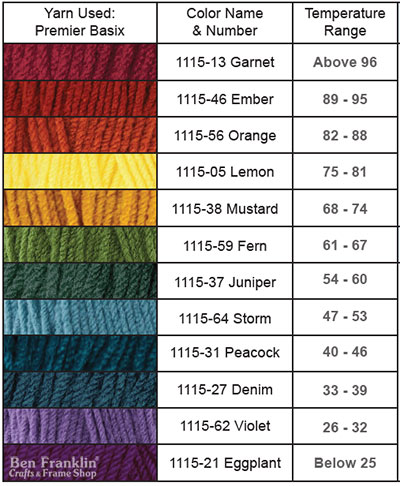 Maryn is part of the marketing team at our Ben Franklin Crafts and Frame Shop store in Monroe, WA. She has spent several months making her temperature blanket, which is not quite finished, but enough is done to show you what it will look like. Her selection of colors is a little different. Here are the colors she used:
90+ Burgundy
83 – 89 Pumpkin
76 – 82 Goldenrod
69 – 75 Sage
62 – 68 Forest Green
55 – 61 Teal
48 – 54 Storm
41 – 47 Denim
34 – 40 Eggplant
33 and below  Thistle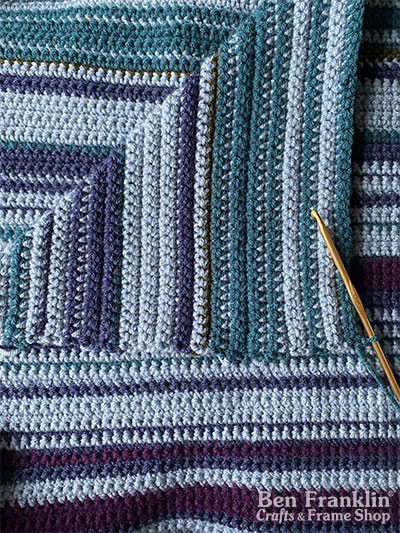 Are you ready to make your own temperature blanket? Stop by our store if you have any questions.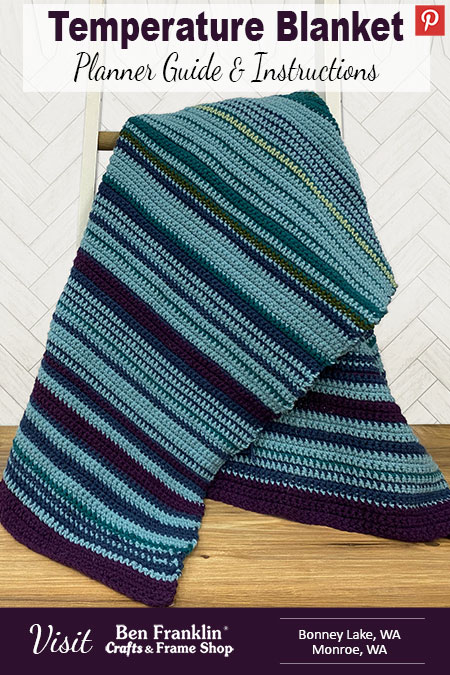 Store Locations: Bonney Lake, WA & Monroe, WA