Here we explain what you need to know about different types of beads, stringing cords and wires. Information courtesy of Sierra Pacific Crafts.
Fire Polished: Beads are machine cut faceted glass beads made in the Czech Republic. Glass making in the Czech Republic is an age old cottage industry. These beads are still made in small quantities by hand. Due to the way the glass is made, there may be slight color variation from one batch to the next.
Pressed Glass: Come in a variety of colors and shapes. The shapes are formed when molten glass is pumped into the molds.
Semi-Precious Stones: Semi-Precious Stones are gemstones created from materials that are a by-product of nature and have been shaped and polished for commercial use. Semi-Precious Stones are differentiated from Precious Stones based on beauty, rarity, durability, and hardness.
Seed Beads: Glass beads come in various sizes and hundreds of colors. Can be used as spacers, accents in strung jewelry and for beaded embroidery. #11 is the most common size although size 15 is smaller allowing for more detail. Toho and Miyuki are among the most common brands.
Swarovski Crystal Beads: Meticulously crafted in Austria to the highest standards of quality, Swarovski® crystal sets the standard. Swarovski® crystal is machine-cut, providing flawless consistency, and the rich color and captivating sparkle make any design unforgettable.
Wood Beads: Wood beads are a great choice if you need to create inexpensive, but beautiful jewelry. Consider combining wood and bone beads for a truly unique and rustic look! Wood beads combine nicely in designs that use natural fiber stringing materials, such as cotton or suede. Wood and leather also come together nicely!
Pearls: A smooth, lustrous, variously colored deposit, chiefly calcium carbonate, formed around a grain of sand or other foreign matter in the shells of certain mollusks and valued as a gem. Pearls come in a variety of shapes and colors and in both freshwater and saltwater.
Crystal: A glass, silica, lime and soda composition with lead added to brighten and intensify the colors and clarity. Most are machine cut. Swarovski however are a higher quality precision cut crystal. Crystal is available in bicone, round, drop, cube and rondelle along with fancy shapes such as butterflies, hearts and flowers.
Beading Cable: This is the most commonly used stringing material. Strong, flexible beading cable is composed of miniature stainless steel wires stranded together. The more strands in the cable, the greater the flexibility. Easy to use, does not knot, don't need a needle. Use with crimp beads.
Silk Cord: Traditional stringing material used for knotting. Very soft and supple. Drapes nicely, but stretches. Available in a variety of colors and sizes. Comes with a needle attached for easier stringing. Use with bead tips.
Poly Nylon (Polyamid): Strong, fray-resistant, knottable stringing material. Doesn't stretch as much as silk cord. Available in a variety of colors and sizes like the silk. Has needle attached for easier stringing. Use with bead tips.
Monofilament (Invisible cord)
Monofilament (Invisible cord): Sometimes called illusion cord. Easy to use, do not need a needle, can tie knots at ends. You can use bead tips or crimp beads with this cord. Good for glass beads as cord won't fray. Do not use with metal beads. Can become brittle and yellow with age.
Stretch Magic (Latex based elastic)
Stretch Magic (Latex based elastic): Not very strong. Recommended for jewelry for children. It does not fray and can be ended with either crimp beads or knots secured with glue. It is recommended that you restring pieces on elastic once a year as it breaks down.
Other Stringing Materials
Leather, polyester, suede, cotton, ribbon, satin, and linen.
Bead stringing wire is a flexible wire that is composed of fine stainless steel strands that are twisted together and then coated in nylon to create a very strong stringing wire. The higher number of strands, the more flexible it is.
7 strand is the "craft" series wire which is a good place to start and offers the most economical value.
19 strand is the "designer" series wire and is a great wire to use if you are producing jewelry to wear or to give to someone.
49 strand is the "professional" series wire and is the best wire to use for professional results, especially if you are going to sell your finished jewelry.
The larger the diameter of wire, the larger the crimp size needs to be.
Recommended Use:
.010 – Seed beads, small gemstones, freshwater pearls and for lightweight stringing and weaving.
.012 to .013 – Crystals, seed beads, freshwater pearls.
.015 to .018 – Medium to heavy gemstones, crystals, seed beads, glass and metal beads. Most versatile sizes for making necklaces, bracelets, and anklets.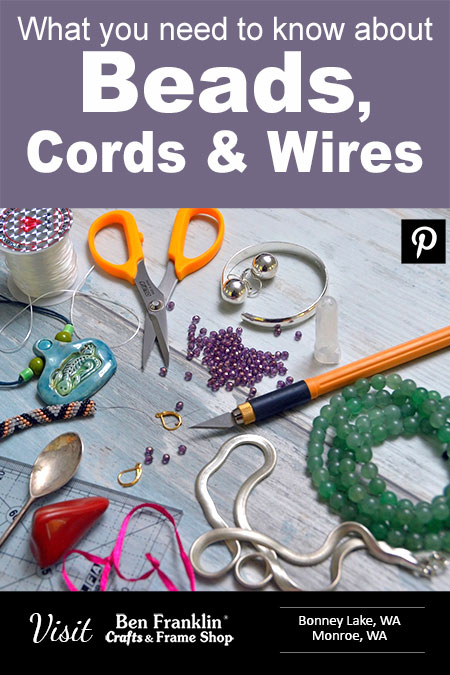 Store Locations: Bonney Lake, WA and Monroe, WA