This Christmas decoration is so easy to make! We assure you that your friends and family will be impressed to know that you made it. You just need one of our unfinished wood frames, paint, paper of your choice, artificial snow, bottlebrush trees and a short piece of jute. This "DIY Trees in Ornament Frame" project is one of our favorite Christmas creations! We hope it will inspire you to make your own. You can give it as a gift, or hang on your wall!
If you have any questions, our team here at the store is always ready to help you with all your projects. We hope to see you soon!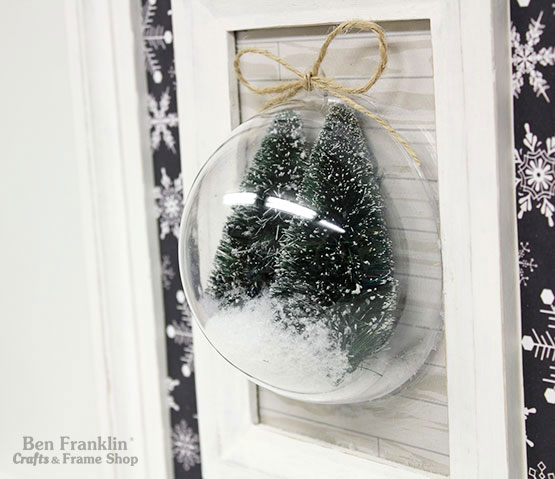 Supplies needed to make this DIY Trees in Ornament Frame:
(Supplies may vary by store, however, special store-to-store orders can be placed with a one-week turnaround. Substitutions will be suggested if a product is no longer available.)
Unfinished Wood Frame (available at our store)
Americana Gel Stain
DecoArt Crafters Acrylic White Paint
Paint Brush
Sand Paper
Paper of your choice 
Glue or Tape
Plastic Ornament (the ones that open in halves)
Buffalo Artificial Snow
E6000 Glue
Exacto Knife
Ruler
Jute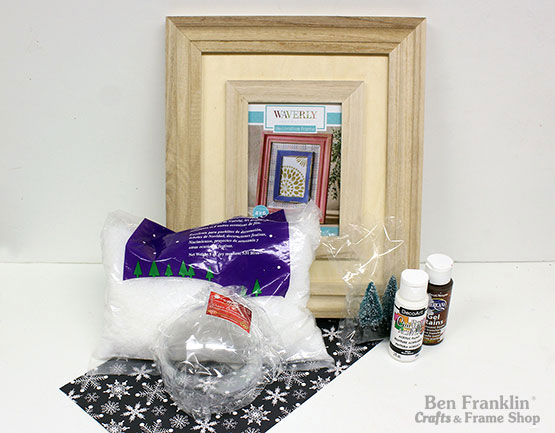 Let's prepare the frame first. Paint  Americana Gel Stain on the frame and allow that to dry completely.
Now it's time for you to paint the entire frame with DecoArt Crafters acrylic white paint. Let this dry before moving on. Once it's dry, sand the edges lightly to create a distress look. 
Your next step will be to cut the paper to fit the outer frame area. We measured the opening of the big frame to have the dimension of the piece of paper we needed. When it's cut, place it on top of the frame and press with a pencil on the 4 corners of the small frame. Once you have those 4 corners marked, use your Exacto knife with a ruler to cut the inner part of the paper. Keep the inner piece of paper (see the next step). Now glue this border paper piece in place using your favorite paper glue or tape.
For the small frame, you will take that cut-out piece of paper that was left out from the previous step and flip it over to use the contrasting color. Remove the backing of the small frame to put in that piece of paper behind the glass (like if you would add a picture).
Now it's time for the fun stuff! Add 2 bottlebrush trees to one half of the clear plastic ornament. Add a little bit of Buffalo artificial snow. Spread glue to the entire rim of the ornament (the E6000 glue would work well for this), then place it on the front of the glass.
Make a small bow using jute string. Glue it at the top of the ornament. Voila! It's ready to hang!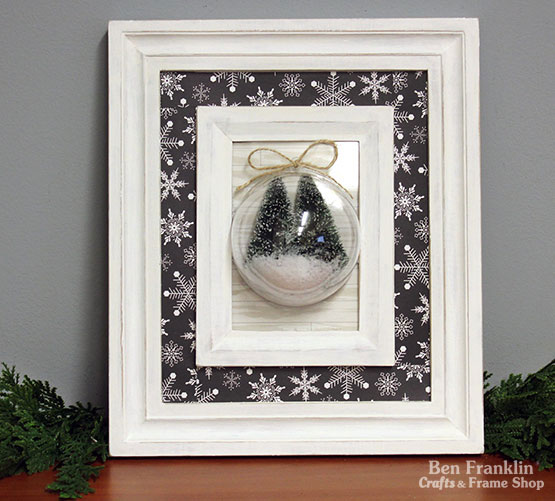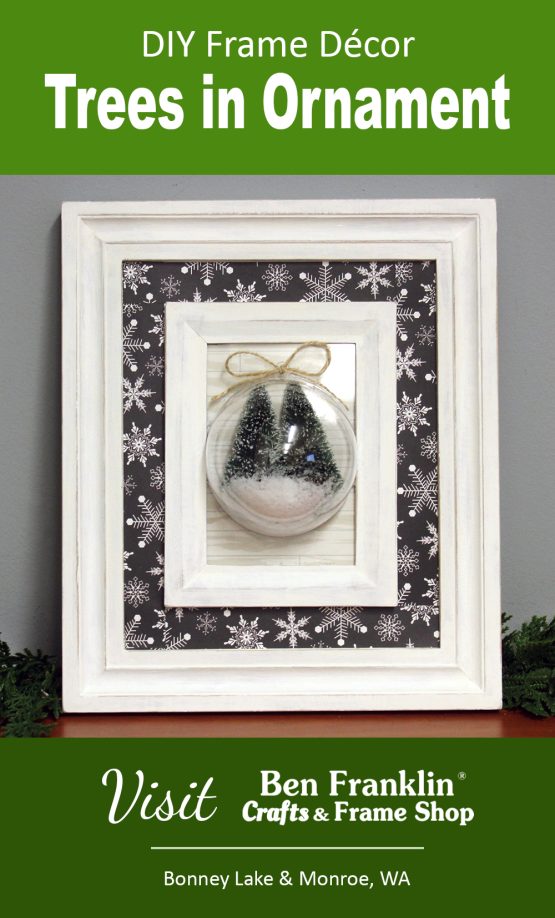 Store Locations: Bonney Lake and Monroe, WA