Welcome, creative souls! Today, we're creating with you an Alcohol Ink Ghost Dome – a delightful DIY project that adds a touch of ethereal beauty to your living space. Let's gather our supplies and embark on this spooktacular journey together.
Supplies needed to create a DIY Alcohol Ink Ghost Dome:
(Supplies may vary by store, however, special store-to-store orders can be placed with a one-week turnaround. Substitutions will be suggested if a product is no longer available.)
– Decorative Dome with Base
– Tim Holtz® Alcohol Ink (choose your favorite colors)
– Spray Bottle
– Black Paint Pen
– For Inside: Battery-Operated Candle
– From Home: Plastic Food Wrap, Rubbing Alcohol, & a Straw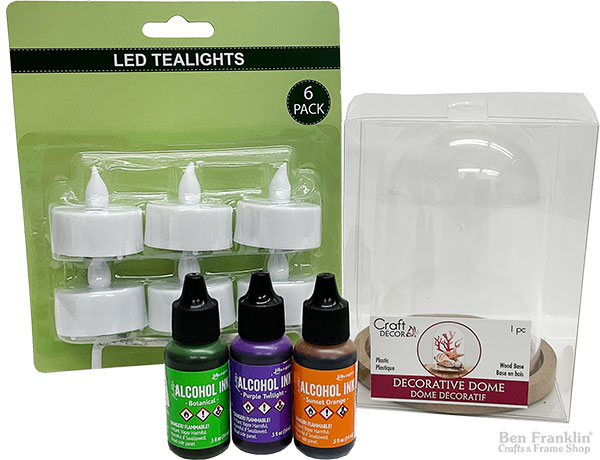 Begin by cutting a piece of plastic wrap large enough to cover the entire circumference of the dome. Lay it out on a flat surface.
Carefully remove the base of the dome and set it aside for later use.
Fill your spray bottle with rubbing alcohol and give the plastic wrap a light mist. Ensure an even coverage across the surface.
3. Colorful Magic with Alcohol Inks
Now, for the magical part! Swiftly take your selected Tim Holtz® Alcohol Ink colors and spray them randomly across the plastic wrap. To create a mesmerizing effect, use a straw to delicately blow air over the colors, allowing them to gracefully spread out.
Pro Tip: Experiment with different color combinations to achieve a unique and eye-catching design.
Place the dome on the plastic wrap, ensuring it's covered entirely. Let the magic happen for a few seconds.
Gently remove the plastic wrap after a brief moment and allow the dome to dry completely. Patience is key here, as the colors settle into a stunning, ghostly display.
6. Bring the Ghost to Life
Once fully dry, grab your black paint pen and draw on a ghostly face. Let your creativity run wild as you craft an expression that suits your artistic vision. Allow the paint to dry thoroughly.
It's time to bring your Alcohol Ink Ghost Dome to life! Turn on the battery-operated candle and place it on the base. Gently position the dome over the candle, and voila—watch as the ghostly hues dance in the flickering candlelight.
Now, sit back, relax, and bask in the enchanting ambiance of your own creation. Your Alcohol Ink Ghost Dome is ready to be admired and enjoyed. Happy crafting!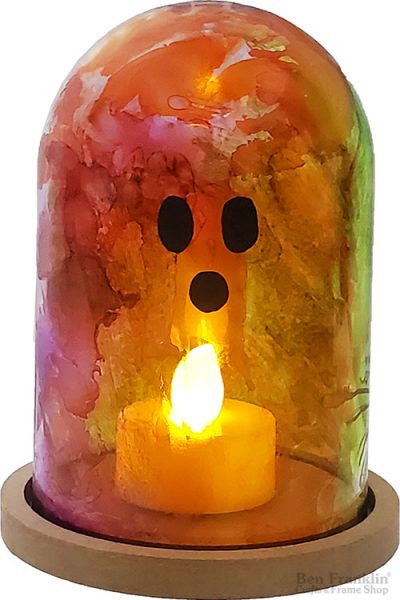 Visit us In-Store to Purchase your DIY Alcohol Ink Ghost Dome Supplies
At Ben Franklin Crafts and Frame Shop, we're committed to providing you with quality crafting supplies and an outstanding customer service. Our team is ready to assist you with any questions you may have. Whether you're an experienced crafter or just starting out, we're here to make your creative journey a delight. Visit our stores in Bonney Lake and Monroe, WA to explore our range of supplies and find more inspiring projects like this one.
Don't forget to save this easy project for later by pinning it to your Pinterest board!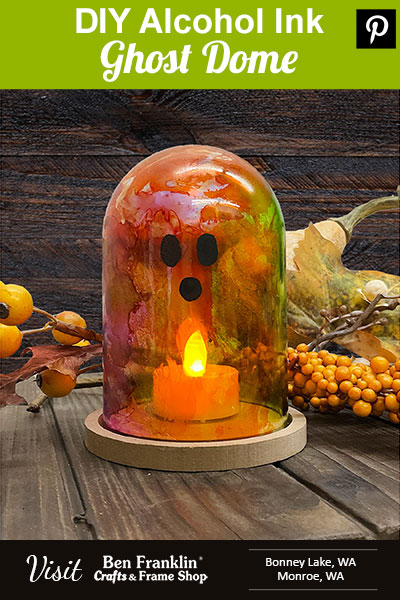 Store Locations: Bonney Lake & Monroe, WA