Are you ready to bring a touch of rustic charm to your home decor? At Ben Franklin Crafts and Frame Shop in Bonney Lake and Monroe, WA, we've got everything you need to create a stunning DIY Wood Slice Wreath. This easy project is perfect for craft enthusiasts of all skill levels. 
Hang your DIY Wood Slice Wreath on your front door, above the fireplace, or use it as a charming centerpiece. The natural beauty of the wood slices combined with the floral accents will infuse warmth and character into any space.
Supplies needed to make a Wood Slice Wreath:
(Supplies may vary by store, however, special store-to-store orders can be placed with a one-week turnaround. Substitutions will be suggested if a product is no longer available.)
10 or 12 Wood Slices (Approximately 3" Each)
Jute String: Find the perfect jute cord to add a rustic touch to your wreath.
Floral Pick of Your Choice: Select a beautiful floral accent from our wide range of options to personalize your wreath.
Hot Glue & Hot Glue Gun: Trusty essentials for securing your wood slices and floral pick in place.
Scissors: A pair of sharp scissors is essential for trimming and cutting the jute cord.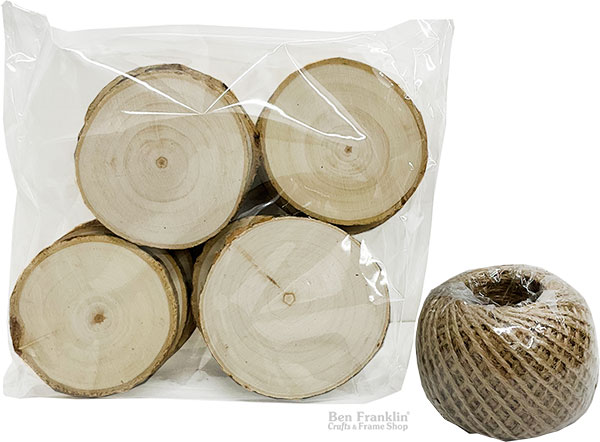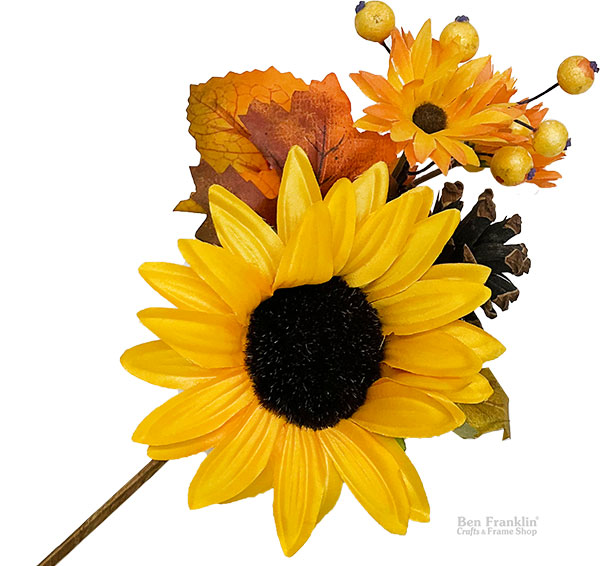 Begin by cutting a 10" piece of jute cord. Apply hot glue to each end of the cord and firmly attach it to one of the wood rounds. You may need to add more glue to secure in place. This will serve as the hanger for your wreath.
2. Arrange the Wood Slices:
Flip over your wood round, and start arranging 5 or 6 wood slices in a circular pattern. Leave approximately 1 to 1.5 inches of space between each slice to create a balanced design.
Place a wood slice on top of two others, creating a layered effect. Use hot glue to attach the top slice to the bottom two slices. Repeat this process until you have all 10 or 12 wood slices securely glued together. The result will be a circular wreath form made of wood slices.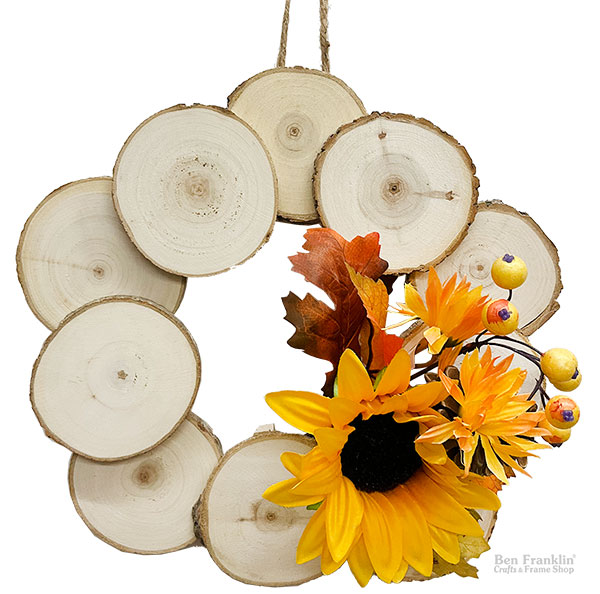 Gently bend the stem of your chosen floral pick until it lays flat. Apply hot glue to the flattened stem and attach it to your wood slice wreath. Ensure that you add extra glue to specific areas of the flowers to secure them firmly in place. This step adds a delightful burst of color and texture to your wreath.
Your DIY Wood Slice Wreath is now complete and ready to adorn your home! 
At Ben Franklin Crafts and Frame Shop in Bonney Lake and Monroe, WA, we're passionate about helping you unleash your creativity. Visit our physical stores today to explore our extensive selection of craft supplies, get personalized assistance from our knowledgeable staff, or simply soak in the vibrant atmosphere of artistic inspiration. If you have any questions or need further guidance on your DIY projects, don't hesitate to give us a call. We're here to make your crafting successful!
Don't forget to save this inspiring project for later by pinning it to your Pinterest board!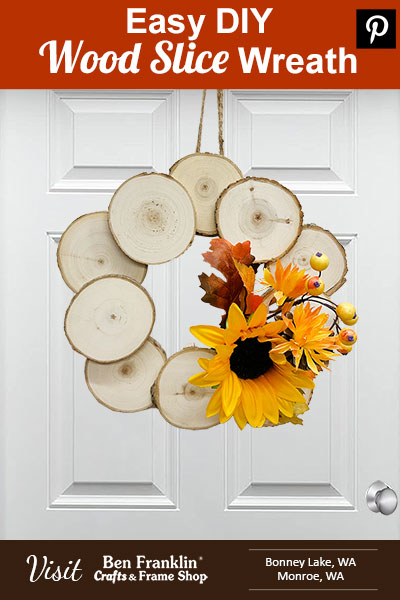 Store Locations: Bonney Lake & Monroe, WA