Welcome, craft enthusiasts! If you're ready to infuse a touch of bohemian charm into your living space, we've got the perfect DIY project for you. Join us in crafting a beautiful DIY Boho Wreath that effortlessly combines earthy elements with a dash of whimsy. Before we dive into the creative process, let's gather our supplies from the one-stop crafting haven: Ben Franklin Crafts and Frame Shop stores in Bonney Lake and Monroe, WA.
Supplies needed to create a DIY Boho Wreath:
(Supplies may vary by store, however, special store-to-store orders can be placed with a one-week turnaround. Substitutions will be suggested if a product is no longer available.)
10″ Metal Ring
SuperMoss Raffia
Wood Bead Wreath
Wire
Scissors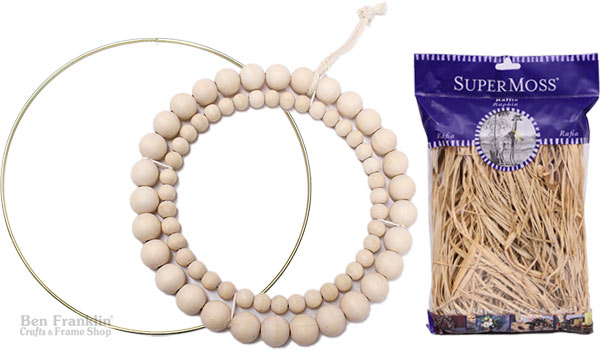 Step 1. Visit Ben Franklin Crafts and Frame Shop
Before we embark on this creative journey, swing by our local Ben Franklin Crafts and Frame Shop stores in Bonney Lake and Monroe, WA. Our aisles are brimming with quality products, and our friendly staff is always ready to assist you. From gold metal rings to vibrant raffia and everything in between, find all your crafting essentials under one roof. (While supplies last)
Step 2: Prepare Your Materials
Once you've gathered your supplies, find a spacious and well-lit crafting space. Lay out your metal ring, raffia, wood bead wreath, wire, and scissors. Ensure you have ample room to unleash your creativity!
Step 3: Weave the Magic – Creating the Raffia Base
Cut a strip of raffia to your desired length. Fold it in half, then loop it over the gold ring. Pull the ends through and tighten the knot, adjusting it as needed. Continue this process until the entire ring is filled with the rustic charm of raffia. The result? A boho-inspired base that sets the stage for your unique creation.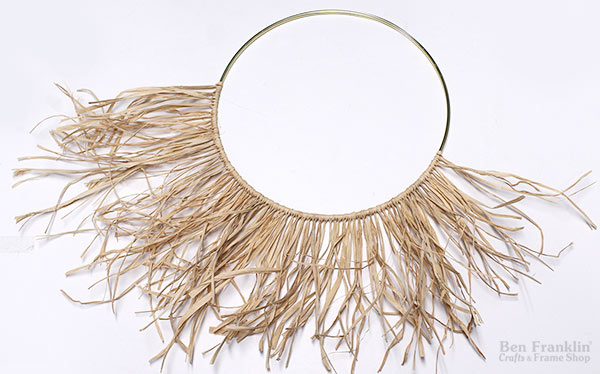 Step 5: Secure and Finalize
Use wire in four strategic places to secure the wood beaded wreath to the metal ring. This ensures your Boho Wreath is not only aesthetically pleasing but also durable and long-lasting. Trim any excess wire for a polished finish.
Step 6: Stand Back and Admire Your Creation
Congratulations, you've just crafted a stunning Boho Wreath! Take a moment to revel in your creativity and the personalized touch you've added to your space.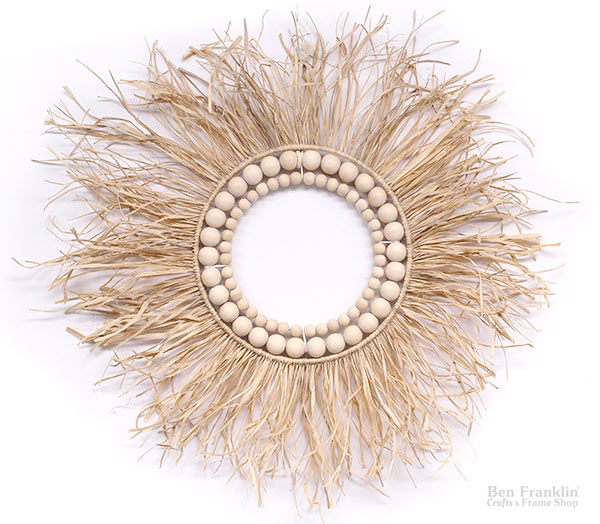 Get Crafty with Ben Franklin Crafts and Frame Shop
For all your crafting needs, trust Ben Franklin Crafts and Frame Shop in Bonney Lake and Monroe, WA. Our stores are stocked with quality products and staffed with experts ready to guide you through your creative endeavors. From DIY wreaths to personalized home decor, we've got you covered.
Don't forget to save this easy project for later by pinning it to your Pinterest board!
Store Locations: Bonney Lake & Monroe, WA