This DIY Paper Gift Bag is so easy to make! All you need is paper, scissors and double-sided tape. Follow the instructions below, or watch our step-by-step video tutorial, to create your own version with your favorite paper!
Supplies needed to make a Paper Gift Bag:
(Supplies may vary by store, however, special store-to-store orders can be placed with a one-week turnaround. Substitutions will be suggested if a product is no longer available.)
Paper (your choice)
Embellishments (your choice)
Bone Folder
Double-Sided Tape
Glue Dot (optional)
Scissors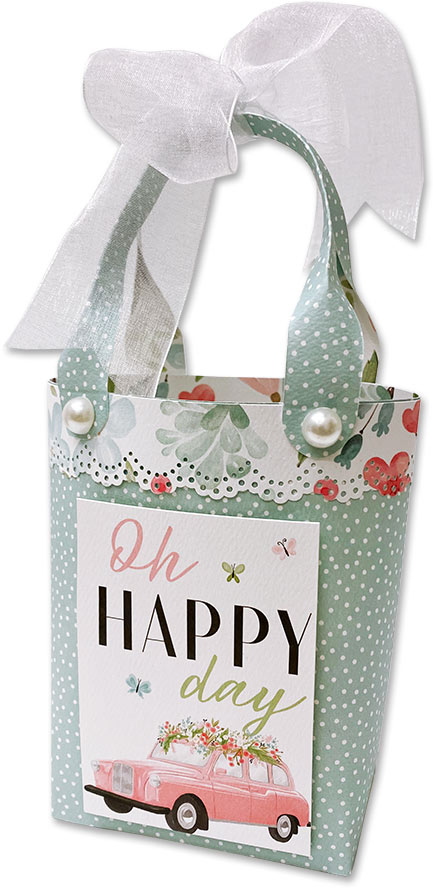 Watch the video for step-by-step instructions. Click HERE.
1. Cut one piece of paper 3″x4½". Score at ½" on all sides.
2. On each corner, cut along the score lines on one side. From here you will be able to fold it up and form a box.
1. Cut a piece of paper 5"x12". Decorate this part of the bag by attaching a 1"x12" strip of coordinating paper along the top.
2. Place some double-sided tape along the bottom 12" horizontal side (to attach the box in step 3) and another along a 5" vertical side (to seal the sides once the box has been attached at the bottom).
3. Remove the backing of the double-sided tape along the 12" side and wrap around the box (to create the bottom of bag). Also remove the backing of the tape along the 5" side and once the box is wrapped around at the bottom, seal the 5" sides together to create a bag.
1. Cut two pieces of paper ¾"x8". Score at ½" from each end and use your corner rounder/scissors to round the ends.
2. Place a strip of ¼" adhesive tape on one side of each strip. The adhesive should be 1½" long starting at each end. This is where you will attach the handle to the bag.
3. Use your bone folder or fingers to roll the paper from one end to the other, breaking the paper fibers and allowing the handle to become curved.
4. Attach the handle to the sides of your bag using a strong glue dot or tape.
5. Embellish with a jewel, add a tag and TADA! You have a cute bag to put goodies in!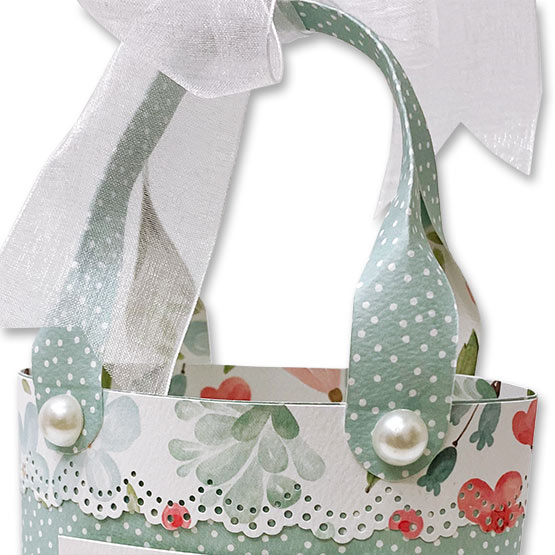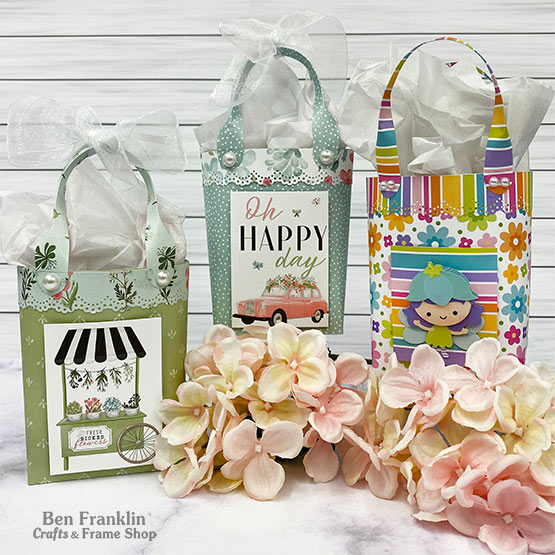 Store Locations: Bonney Lake & Monroe, WA