Create a DIY Macramé Ghost Wall Décor with only a few simple supplies and a touch of creativity! You'll be able to craft a whimsical piece of art that will capture the spirit of the season. Plus, we're here to ensure you have a fantastic experience, as we take pride in offering exceptional customer service. Come in today to get all your supplies, and then let's make this fun macramé ghost together!
Supplies needed to create a DIY Macramé Ghost:
(Supplies may vary by store, however, special store-to-store orders can be placed with a one-week turnaround. Substitutions will be suggested if a product is no longer available.)
– 13mm 7.5' Nautical Rope (x2)
– Unfinished Wood Disk Ornament
– Hot Glue
– Hot Glue Gun
– Presto Felt Sheet—Black
– Scissors
– Pen or Marker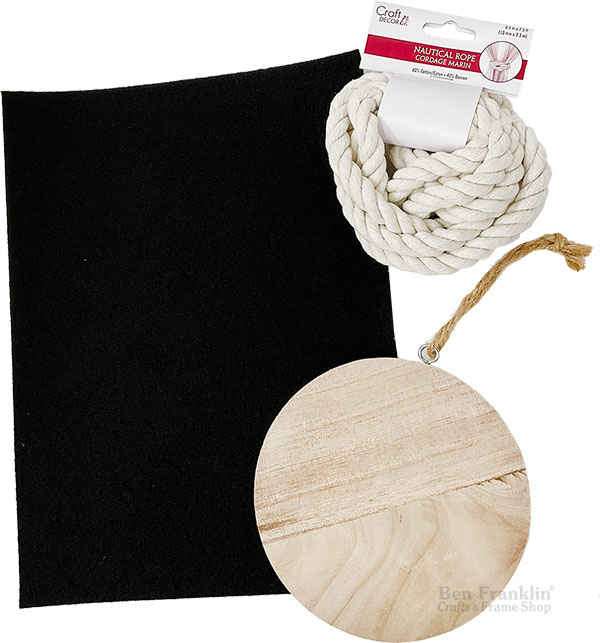 Below this video you'll find the step-by-step guide on how to make the macramé ghost, but we also recorded a video that you may want to check out. Click on the video below, or go to our YouTube Channel HERE.
Start by taking one package of nautical rope and folding it in half once. Position the rope in a rainbow shape, making sure it's the same width as the wood disk. This will serve as the outer outline of your ghost.
Place the rainbow-shaped rope onto the wood disk. Align the top rope with the top edge of the disk, ensuring it's secure and centered. Our Ben Franklin Crafts and Frame Shop stores in Bonney Lake and Monroe, WA are at your service for any additional assistance you might need.
3. Craft the Ghost's Body
Take the second package of nautical rope, fold it in half, and then fold it in half again. Position this rope in a smaller rainbow shape that fits within the first one, creating the ghost's body.
Use a hot glue gun to attach each row of the rope to the wood disk. This will bring your ghost's body to life!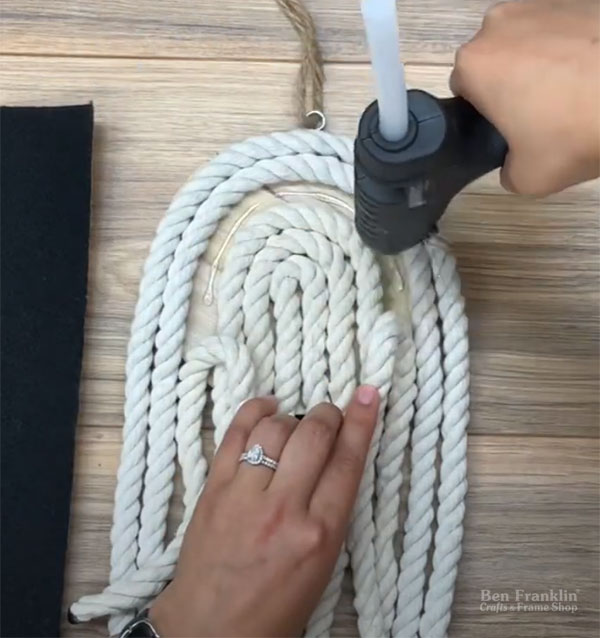 4. Add Expressive Features
Get creative by drawing eyes and a mouth on the Presto Felt Sheet using a pen or marker. Cut out the shapes carefully.
Peel off the backing of the Presto Felt Sheet and attach the eyes and mouth onto the rope, creating a cute and endearing face for your ghost.
Decide on the desired length of the ghost's body, then cut off any excess rope to create a clean and polished bottom edge.
To give your ghost a charmingly rustic appearance, begin unraveling each strand of rope to your desired length. You can stop at the edge of the wood disk or continue unraveling for a more dramatic effect.
Once you're satisfied with your macramé ghost's appearance, hang it up on your wall and revel in the spooktacular charm it adds to your decor.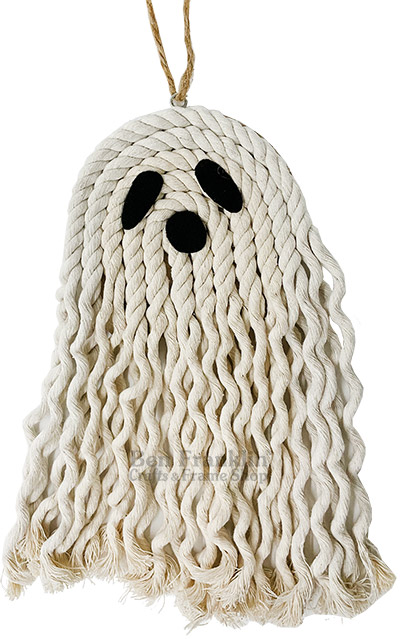 Feel free to explore your artistic side even further! If you're up for more fun, consider using Rit Dye to color the nautical rope, giving your ghost a unique and eye-catching twist.
Visit us In-Store for Your Macramé Supplies
At Ben Franklin Crafts and Frame Shop, we're committed to providing you with top-notch crafting supplies and a memorable experience. Our team is ready to assist you with any questions you may have. Whether you're an experienced crafter or just starting out, we're here to make your creative journey a delight. Visit our stores in Bonney Lake and Monroe, WA to explore our range of supplies and find more inspiring projects like this one.
Crafting is more than just a hobby—it's an opportunity to express yourself and infuse your surroundings with your unique style. Join us at Ben Franklin Crafts and Frame Shop, where creativity knows no bounds!
Don't forget to save this inspiring project for later by pinning it to your Pinterest board!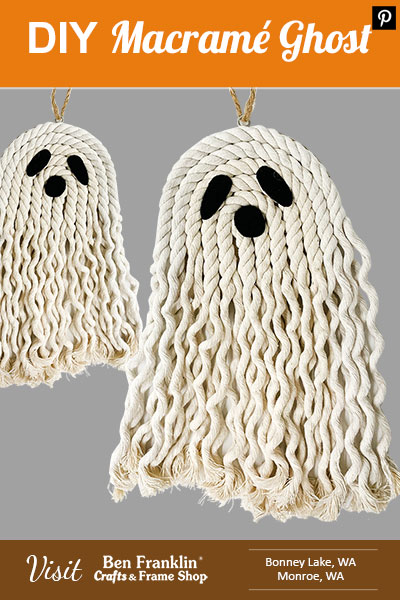 Store Locations: Bonney Lake & Monroe, WA