Making this adorable Easter Treat Box may seem intimidating, but it's just a matter of knowing how to cut and score your paper. Melanie explains in this video tutorial how to make it.
Supplies needed to make an Easter Treat Box:
(Supplies may vary by store, however, special store-to-store orders can be placed with a one-week turnaround. Substitutions will be suggested if a product is no longer available.)
Double-sided patterned paper
Paper cutter
Bone folder
Favorite adhesive (glue/double-sided tape)
Corner rounder
1 1/2" scalloped punch
1 1/4″ circle punch
Watch the video for step-by-step instructions. Click HERE.
1. Cut your double-sided paper into 4 pieces: 5"x 8½", 1⅞"x 1⅞", 1⅞"x 2⅞" and ½"x 7½".
2. Score the 5"x 8½" piece on the short side at 2" and 4". Rotate the paper keeping 1" at the top and score at 2", 4", 6" and 8".
3. Slide the paper back and score at 1" and 5" just from the top to the first horizontal score line. Draw triangles from each of these marks using a pencil and ruler; starting at the top and going down to each corner of that square.
4. Cut off the bottom and top portions of the 1" tab on the right side, leaving a center tab. Keeping your paper with the tab on the right, cut off the top 3 squares from the left.
5. Cut the bottom score lines up to the horizontal score line. Score on your pencil lines (if you drew on what's going to be the outside of your box, erase any pencil marks).
6. Fold both sides into the middle with the tab overlapping. Adhere the tab to form a square box. Fold the bottom pieces up and adhere the last one.
7. Round the top corners of the 2⅞"x 1⅞" piece of paper. Glue to the back and to the lid of the box. Trim if desired. Glue the 1⅞"x 1⅞" paper to the front of the box. Gently pinch top of box forming the triangles at the sides. Fold over the top flap.
8. Make belly band from a ½" strip. Start at the back or bottom of box. Gently wrap around the box, creasing at the edges. Keep the band a little on the loose side, rather than too tight.
9. Glue overlapping ends. The band should slide easily on and off. Punch out the scalloped and regular circles to embellish the front of box.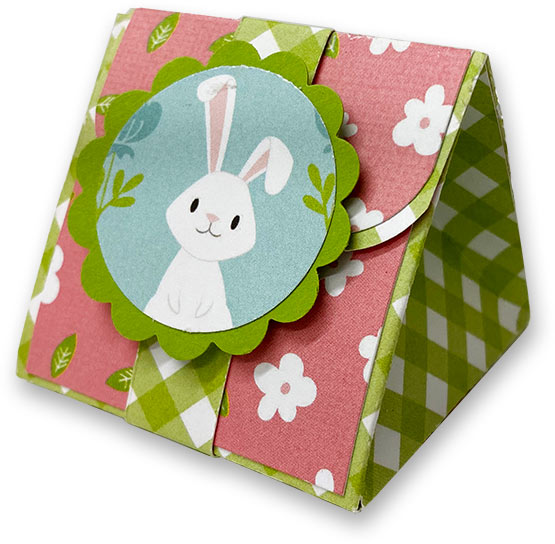 Store Locations: Bonney Lake & Monroe, WA