Making a shaker card is easier than you think! In this tutorial, Melanie will show you how to make beautiful DIY Birthday Shaker Cards – perfect for your next party!
Supplies needed to make a DIY Birthday Shaker Card:
(Supplies may vary by store, however, special store-to-store orders can be placed with a one-week turnaround. Substitutions will be suggested if a product is no longer available.)
White cardstock paper (multiple sheets)
Patterned Paper
Cardstock Paper in different colors (for multiple candles)
Acetate Sheet
Whimsy Stamps Candle Die Set
Sequins & Seed Beads
Diamond Glaze
RevolutionTM Die-Cut Machine
Favorite Adhesives (glue/double-sided sticky tape)
EK Tools Powder Tool
Tweezers
Stylus (or poker-type tool to help punch out candle holes)
Stampendous Happy Birthday Stamp
Ink Pad (your choice)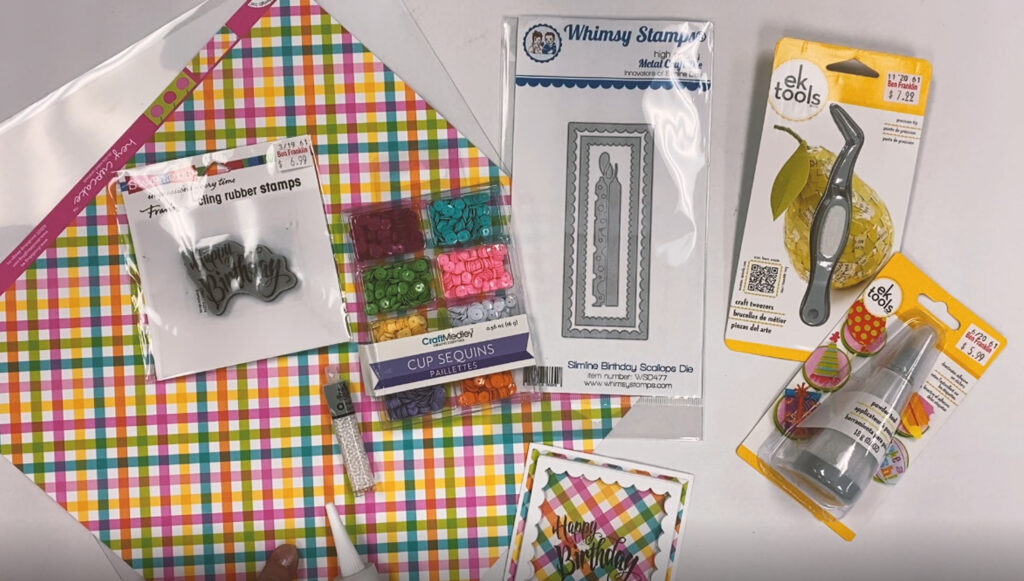 Watch the video for step-by-step instructions. Click HERE.
1. Cut 1 sheet of white cardstock to 8½" x 7½" and score the short side at 3¾" (to fold in half).
2. Cut 1 piece of the acetate sheet just a smidge smaller than 3¼" x 8¼".
3. Cut the patterned paper to 3½" x 8½".
4. Glue the patterned paper to the folded white cardstock.
5. Die cut the candles (in various colors), flames (in yellow) and 8 border pieces (from white cardstock). Set includes a solid die cut and a polka dot die cut.
6. Glue the candle polka dots to the backs of the candles (use stylus/poker tool to help punch out any dots that didn't immediately pop off).
7. Glue the finished candle sticks to the front of the card, on top of the patterned paper (Tip: use one of the border pieces to place temporarily over the card to see where the candles will fit best).
8. Glue the flames behind the paper candle wicks (easier to use tweezers for placement) and add Diamond Glaze to the top (over both wick and flame). Set aside to dry.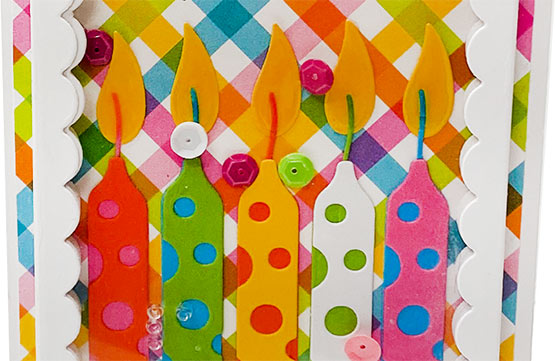 9. Glue/tape 7 white borders on top of one another, creating a stack (save the last for next step).
10. Remove the film from the acetate sheet.
11. Glue/tape the last border layer to the acetate sheet.
12. When the candles are dry, stamp Happy Birthday onto your patterned paper.
13. Glue/tape your 7-layered borders to the card, then dust the inside of the borders and candles with the EK Powder Tool to prevent beads and sequins from sticking.
14. Add sequins and seed beads.
15. Glue/tape the acetate layer on top.
16. Decorate the envelope if desired.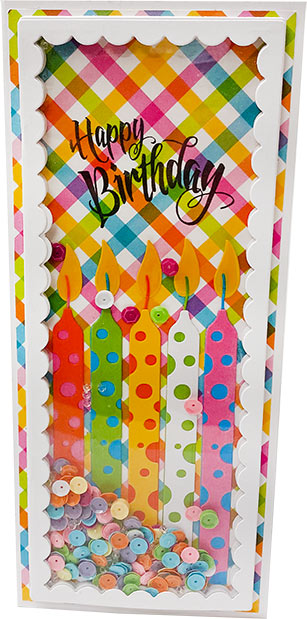 Store Location: Monroe, WA